After a year of waiting, the 2020 Tokyo Olympics have now come to an end. CONNECTED speaks to Olympian and Reading graduate, Mathilda Hodgkins-Byrne, and senior practitioner from the English Institute of Sport (EIS), Dr Luke Gupta, for an exclusive look at a Games like no other.
With the Olympics taking place during the COVID-19 pandemic, it was never going to be a straightforward event. All participants were required to take regular COVID tests and temperature checks, those travelling to Japan were required to quarantine, and spectators were banned.
This week, Mathilda, who studied chemistry at the University of Reading, and local practitioner, Dr Gupta, reveal what the experience was like for an athlete and a member of the Team GB support crew.
An incredible atmosphere
Mathilda and Dr Gupta are both quick to agree that despite restrictions, the atmosphere was still incredible.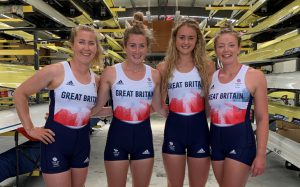 Mathilda shared: "For me, being at the Games was like nothing I'd experienced before. Although I don't have previous Olympic experience to compare to, I didn't feel the COVID-19 restrictions impacted the atmosphere of the Games themselves.
"Every athlete was aware of the achievement of simply being at the Games, and the show we would be putting on for the world to watch.
"Due to COVID restrictions I had to walk through the basements of the apartments to get to the laundry drop-off point. On my way I would pass various teams of athletes training, and I remember the Cuban boxing team well.
"The noise they created and their music was incredible – they brought the area alive. Every nation wanted to show their individuality, creating a huge atmosphere of anticipation, bravado and noise."
In comparison, Dr Gupta's experience was restricted to training venues only: "I was only allowed in the venues where athletes were putting together their final training preparations prior to entering the Olympic Village.
"The Japanese volunteers did a fantastic job of making everyone feel welcome, safe and secure, whilst attending to our every need – they were a huge part of our success on the ground.
"There were naturally a few teething problems to begin with, but once we found our feet my colleagues did an excellent job of creating a high-performing, supportive and fun team environment, despite the restrictions. Overall, there was still a really great atmosphere."
The Olympic rollercoaster
Despite the difficult circumstances under which these Olympics took place, Team GB came away in fourth place with 22 gold medals and 65 medals in total.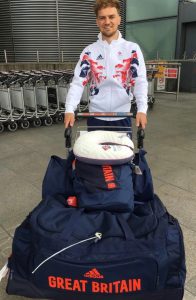 Dr Gupta reflects on Team GB's performance: "Considering the circumstances and disruption to preparations in the lead-up to the Olympics, what Team GB achieved is remarkable. There were some amazing moments, coupled with some heart-breaking moments – all of which I will never forget.
"To come fourth in the medal table and equal our medal tally in London is something I am very proud to have been a part of, and reaffirmed why I do what I do."
Mathilda's reflections of the Games naturally strike a more personal chord, as she was competing in the Women's Quadruple Sculls.
She said: "At the start of my race, I can honestly say I've never been so nervous, and it was clear to see this was a common emotion amongst the other athletes and their coaches. I've only experienced this level of intensity once before at the Olympic Qualifying World Championships.
"Racing at the Games was ferocious – the increase in speed many crews had managed to gain from finishing the World Cup series to the Olympics was astounding."
Unfortunately Mathilda and her team didn't make it into the A final, however they did win the B final earning themselves the ranking of 7th overall.
She reflected: "I know that I am proud to be an Olympian; I am proud of my ability to have kept training throughout the issues COVID caused; and I'm proud of how I conducted myself when we didn't make the A final. But I don't know how I feel about the word 'proud' in regard to my racing.
"I'm not happy with the result I achieved, and I feel that's because I'm very ambitious and will always want more.
"We were told before we left for Tokyo that as an athlete you are never really aware of the significance of what you are doing when you are competing, however once you are back home the reality of the achievement dawns, and I feel this is very much the case for me."
What's next?
With the next Olympic Games taking place in Paris in 2024, CONNECTED asks Mathilda and Dr Gupta about their upcoming plans.
Mathilda said: "I'm currently on a break and I'm going on a camping holiday. I'm not completely certain if I will go back to rowing – I would like to, but I'd also like to do more studies, so I'm not sure which I will pursue yet.
"It's definitely a time in my life I won't forget in a hurry, even though the rollercoaster of emotions made me feel like I was in a dream. I don't feel that the significance of competing at the Olympic Games can be replicated anywhere else.
"The feeling of being part of something much bigger than me or my sport was immense. Even though I didn't get the result I was hoping for, I can now say I am an Olympian, and this is something I feel immensely proud of."
Dr Gupta returned from Tokyo and dived straight into final preparations for the Paralympics:
"My job involves supporting both Olympic and Paralympic sports, so as soon as I landed back in the UK my attention turned to helping athletes with their final preparations before they flew to Tokyo for the Paralympics.
"I will certainly be watching as many events as I can from the UK and will be rooting for our Paralympians to shine on the world stage," he said. "After that, my attention will be focused on starting the next Olympic cycle, preparing for Paris 2024!"
Discover what life is like as an adaptive athlete for Reading graduate, Jamie Gane, and find out what the Paralympics means to him.