With the Paralympics underway, CONNECTED speaks to Reading graduate, Jamie Gane, to learn about his journey to become an adaptive athlete and motivational speaker, and find out what the Paralympics means to him.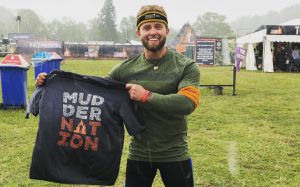 When he was nine Jamie was diagnosed with a chronic pain condition which left him in a wheelchair. It was the realisation that upper body strength and core stability would be key if he was to have his leg amputated which led to the start of his sporting career.
However, Jamie is also passionate about teaching. Following a PGCE in Secondary Mathematics at Reading, Jamie is now a secondary school maths teacher.
He said: "I had an amazing experience at Reading – I enjoyed it so much I'm coming back to do another master's in education soon.
"The University and my lecturers understood how dedicated I was to both teaching and sport and were incredibly supportive of my need for flexibility to attend training and competitions.
"I only started teaching in September 2020, but I absolutely love it. Luckily my sporting competitions fall between May-September so I am able to be a full-time teacher alongside my sporting career."
However, Jamie's path to success has not been without obstacles – he casts his mind back to where it all began and shares with CONNECTED what he has been through to get to where he is now.
An uphill battle
Living with daily pain in his leg since the age of nine, Jamie set his sights on a below-knee amputation. But it took six long years of battling with doctors before they agreed to amputate.
Jamie said: "I've always loved sport – I started doing judo with my brother when I was just three, but then my condition stopped me. When I was researching amputations I realised I'd need to get fit and lose weight for a successful amputation."
Since having his amputation Jamie asserts that he has no regrets: "It has improved my life so much. I had my amputation in September 2016, but unfortunately got an infection in my stump so wasn't able to be fitted with a prosthetic leg until late 2017. It was a long and challenging journey, but I got there.
"Within three weeks of having my leg fitted, I was up and walking. I hadn't walked for 14 years by this point so this was monumental for me. It also took a lot of practice – I used to go to the park and watch how people walked, just to see how they moved their knees and hips.
"Friends commented on how I seemed like a completely different person after my amputation. I'd been known as the 'guy in the wheelchair' since I was nine – it was a strange step away from this identity. I could now walk around town and not be asked questions about my disability, or worry about where the nearest disabled toilet was, or what kind of ground I was travelling over. The amputation lifted a massive weight off my shoulders. It was amazing."
Competing internationally
Nine months after his amputation Jamie was back on the judo mat, and his passion for sport had been well and truly reignited.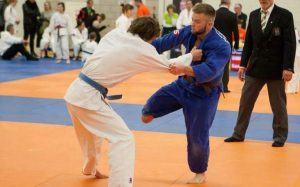 He said: "I thought I'd try competing and saw an adaptive judo competition advertised on social media. It turned out they'd never seen a lower-limb amputee athlete in judo before – most competitors have mild intellectual impairments rather than physical disabilities."
Jamie now competes internationally in judo under the 'Special Needs/Adaptive' category, without the use of his prosthesis, and is currently ranked second in the world – with aspirations to become number one. He is currently the only lower-limb amputee in the world to compete internationally.
He reflected:
"I won silver at my first British Judo Championships and from there it spiralled. I then won silver at my first international Judo competition and at the World Judo Games in 2019."
But Jamie's passion for sport doesn't stop with judo – he also competes internationally in Obstacle Course Racing (OCR). He has completed more courses than any other UK adaptive athlete, including over 110 Tough Mudder courses. He also recently won Gold at the European OCR Championships.
He explained: "I first got into Obstacle Course Racing when I was still in a wheelchair.
"It took me eight hours to complete my first Tough Mudder course – I had to lift my wheelchair over trees, push it up steep hills with my head, and I was in so much pain afterwards, but I absolutely loved it.
"After the amputation I started walking the courses, then running them, then challenging myself to do them in shorter times and to complete longer courses. Now I compete internationally, including at the European and World Obstacle Course Race Championships, where I was placed 3rd in one category against 60+ able-bodied athletes."
A role model
Jamie's ambition is to be a role model to other young people who are in similar situations – to inspire them to believe they can overcome challenges and see the opportunities open to them in the world of work and sport.
He explained his motivation: "I went to an able-bodied school where I was the only wheelchair user, and my teachers didn't really understand my condition. I felt completely alone.
"Then in 2012 I watched the Paralympics and it was so inspiring to see people who have had amputations but it wasn't the end of their lives. These amazing Paralympians have no limits at all apart from this disability. This inspired me to share my story and the realities of being an amputee to help others."
Jamie is now a motivational speaker for schools and organisations, where he is invited to speak on the practical and mental challenges of life as an amputee and to consult on accessible facilities. He hopes that by increasing awareness and inspiring others, he can also challenge assumptions and stereotypes associated with his impairment.
He said: "The biggest issue I face, which is nice in some respects, is that by simply attending an event I can inspire some people. However, I'd rather inspire people because I've done inspirational things, rather than just by turning up. For example, I'd like to impress people for my abilities in my sport, rather than simply by competing as an adaptive athlete."
The importance of the Paralympics
Unfortunately Jamie cannot aspire to compete at the Paralympics because only visually-impaired athletes can compete in Judo at the Games, and Obstacle Course Racing is not an Olympic sport. However, that doesn't stop him wanting to influence future change.
He said: "I am passionate about getting Obstacle Course Racing into the Olympics and then hopefully the Paralympics. However, it's a lot of work to get it classified as an Olympic sport, so it will probably be beyond my professional career.
"It is one of the most challenging sports you can do. It involves swimming, rock-climbing, and sprinting, all on uneven terrain – the amount of training you have to do is intense. Getting it into the Games would provide recognition of the sport and it would also increase the number of people across the world who get to enjoy it which I think is really important."
Jamie also firmly believes in the Paralympics' value to inspire and motivate. An avid watcher of the Paralympics since being captivated by them in 2012, Jamie has continued to be inspired by the amazing athletes who compete at them.
He said: "These athletes are utterly inspirational. The fantastic thing about the Games is that you see people who are incredibly able, despite their disability, and who are just loving their sport.
"It opens people's eyes to see that being disabled doesn't mean being stuck at home – it's about being able to do something you love irrespective of your disability."