Climate change is one of the biggest issues facing the planet. To tackle this threat, we must work together. We must help each other understand what is happening. Only then will we find solutions.
Reading's climate scientists have played a leading role in the latest Intergovernmental Panel on Climate Change (IPCC) report that has recently been released. The report warns that the damaging effects of climate change are already being seen across the globe, including devastating flooding, heatwaves and wildfires.
With urgent action required to prevent further damage to our planet, we are launching a new edition of CONNECTED – The Sustainability Issue. In this edition, we aim to share how the University of Reading community, both locally and around the world, is taking positive action towards a more sustainable future, and helping inspire others to do the same.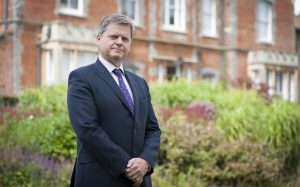 Professor Robert Van de Noort, Vice-Chancellor of the University of Reading, said: "Climate change is a critical challenge for our future and the experts are unequivocal on the need to take urgent action. If we are to take the necessary steps to prevent the worst scenarios becoming reality, we must act now and we must act globally. The responsibility is on all of our shoulders to protect the world for future generations.
"The University's global community achieves great things, and I have no doubt that will be true in ensuring a more sustainable planet and future for us all."
The need for climate education
As the University heads towards its centenary, we are not only reflecting on our past but looking towards the future. Our future is a global, shared one in which we equip our students with the skills and knowledge they need to help build a sustainable future for all, and we believe that climate education is a crucial step on this journey.
All University of Reading students will have the opportunity to develop an informed understanding of the environmental and wider sustainability challenges the world faces. But we want to do more, to go beyond educating our own students.
Professor Van de Noort said:
"Climate education has been identified as crucial to helping everyone understand the need for change, and to inspire them to make the necessary changes in their own lives to face the future with confidence.
"We must bring together experts across all areas of climate education if we are to genuinely address this issue. This is why we are running a Climate Education Summit, which we hope can deliver much-needed action and resources that make an immediate difference."
Climate Education Summit
The University of Reading's Climate Education Summit is taking place next week, on 15 September. The virtual Summit aims to bring together young people, scientists, teachers and educationalists, policymakers, and campaigners, to create a new nationwide action plan for better climate education in schools, focusing on children aged eight to 18.
Our intention is to ensure the message about climate education that emerges from the Summit reaches the 26th UN Climate Change Conference of the Parties (COP26) in November 2021. We will also work with our partners to put the action plan into practice to deliver effective change and to support learning and facilitate networks with key stakeholders in education and climate. Our aim is to place a spotlight on climate education for young people and to create lasting, positive change.
The virtual Summit will include open sessions with keynote speakers and a Q&A, as well as some closed roundtable discussions. Find out more about those participating in the Summit from our alumni community.
Everyone is welcome to attend the Climate Education Summit. Book your free place at the Summit, submit a question to the panel, or let us know what you think is needed from climate education.