Reading graduate and meteorologist, Karl Shepherdson, offers a blunt yet hopeful view on the changing climate – and stresses that climate education is the first step on the journey to combat climate change.
When Karl embarked on his career with the Met Office two decades ago, climate change was still a theory being dismissed by most people.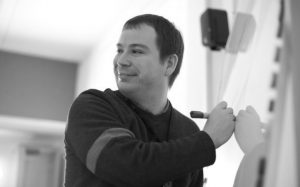 He shared: "In my first role as a land-based climate researcher, my team were starting to put together the 2001 Intergovernmental Panel on Climate Change [IPCC] report. My job was to compare climate averages over a 30-year period against current monthly data to see whether the Earth was warming. It became unequivocally clear to me that it was."
Karl spent much of his early career trying to persuade people that the changing climate was real and would continue to happen. 20 years later, the warming of the planet as a result of humans is indisputable. Karl said:
"We have decades of evidence from multiple datasets. Climate change is as certain as it can be, there's no disputing it, and it's happening now."
Following the University of Reading's Climate Education Summit last week, CONNECTED drew upon Karl's expertise in meteorology and teaching to share why climate education is so important in protecting our future.
Global climate education
Karl begins by explaining that "the days of educating people on the fact climate change is happening are gone now – the majority of people know and understand what climate change is." Now is the time to educate the next generation to better prepare them for the challenges ahead.
"We need to implement climate education into the national curriculum to help young people make the right choices for the future.
"It's important to embed the key messages of climate change throughout science, geography and maths, from primary and secondary school to university.
"This is a global problem and we need the developed and developing world to come together to solve it. The climate does not stop and start at borders, therefore climate education needs to be global.
"Young people need to know how climate change is going to affect the world on a global scale. Then they need to know what to do about it.
"We need to connect with young people without a science background as well, because everyone needs to understand how the choices they make in their lives matter. Most importantly, they need to understand why this action is the right, and the necessary, thing to do."
Combining education and weather
Karl's passion for both weather and education stems from his childhood, and he tells CONNECTED how he knew from an early age that he wanted to be a 'weather man'.
"As a young child I cut a blackcurrant squash bottle in half, dug a big hole in my garden – much to my mother's annoyance – to make my own rain gauge, and as a teenager I had my own weather station in the garden. My drive and enthusiasm to work at the Met Office was unparalleled," he shared.
"For me it was study weather or nothing – and that meant study at Reading or nothing. Reading was, and still is, a big name internationally for meteorology. It was hard work, but I dived right in and every day was a new learning experience."
A week after graduating from Reading, Karl began his career at the Met Office where two decades later he remains – albeit having gone through a fair few job titles in that time. One such job title – Learning Consultant at the Met Office College – enabled him to combine his love for weather with his so-far untapped passion for teaching.
He explained: "Following two years as a climate researcher, then six years as a weather forecaster, I taught at the Met Office College for 12 years, specialising in meteorology. I must've taught thousands of people and I loved getting to play with the weather and passing on knowledge to others.
"It's wonderful to see someone taking on board concepts and excelling, or doing something new and innovative. I taught a lot of Reading graduates and it's amazing to see those people now running a large team or delivering key Met Office objectives."
Karl's passion for outdoor education extended into his voluntary work, with the Youth Hostels Association (YHA) and as Chair of the Royal Meteorological Society's Education Committee (RMetS).
He said: "The YHA is founded on the principles of outdoor education, aiming to transform young lives through travel and real adventure, while the RMetS' Education Committee is a professional learning society for all meteorologists.
"I volunteered with the YHA for ten years, in roles ranging from warden to National Vice Chairman. I still volunteer with the RMetS' Education Committee today, engaging with national curriculum reviews and teacher training resources.
"Enabling others to achieve is where my interests and passions lie. When I see people succeed, that's my million-pound bonus."
Taking action
Karl is now a Regional Network Manager for the Met Office, looking after all the weather stations in the north of England.
He reflected: "I've come full circle from making my own rain gauge in my back garden, to working with the Environment Agency to inspect their large system of gauges used to issue flood warnings. And there's nothing I love more than putting my gloves on and unblocking those gauges."
This is a sentiment that Karl believes we need to apply to the climate crisis: "We need to stop talking and start doing. If the world's temperature increases by 2-3 degrees then we will see massive changes around the world, including in the UK.
"I've spent my career focusing on the positives surrounding climate change – we've caught it and understood it, so that means we can solve it. I believe the world will behave the right way eventually – after all, it's in all of our interests that the human race prospers."
While Karl stresses we mustn't be complacent, he is quick to emphasise the optimism he feels for our future.
"I'm amazed at how far we've come just during my career," he exclaims. "For example, I never thought I'd see the high performance computing we have today back in the 1990s, which enables us to model our atmosphere. And we don't put a price on our data which is fantastic. The UN's World Meteorological Organisation transfers information and knowledge globally for free in real time – and we've been doing that for 50 years. This sort of international cooperation is going to be key to solving this crisis.
"We know what we need to do, we just need to work out how to get there. The longer it takes us, and therefore the more carbon we put into the atmosphere, the worse the problem will be, but I'm confident we will get there," he concluded.
Find out more about Reading's Climate Education Summit.