The stark reality of global warming was impossible to ignore when the University of Reading's climate stripes hit the catwalk at the 2021 London Fashion Week.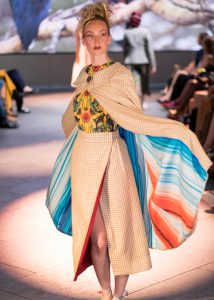 A climate change visualisation created by Professor Ed Hawkins MBE was showcased on Thursday 16 September at London Fashion Week, after sustainable couture designer, Tammam, turned the iconic stripes into an eco-friendly clothing range.
Bursting with colour, the 'Flight' themed collection featured a range of textiles inspired by the climate stripes graphic, which has been adopted and shared all over the world in recent years as a symbol of climate action.
The bold stripes represent the average annual global temperature since 1850 – using reds for hotter years and blues for cooler years – to clearly show how temperatures have risen dramatically due to human-caused climate change.
Professor Hawkins, a climate scientist in the National Centre for Atmospheric Science at the University of Reading, said: "Everyone needs to understand and talk about climate change if we are to find ways to tackle it.
"Putting the climate stripes on the catwalk is a high-impact way to get the message across – a powerful synthesis of science and fashion."
Tammam's 2022 collection includes sustainable materials and hand craftsmanship from artisans based at the Tammam Atelier and across India. The Flight theme references nature and female aviators – an explosion of colour as a fabulous, freeing antidote to the last couple of restrictive years.
Fabrics include hand-loomed organic cottons, peace silks and Tammam's exclusive eco-tulle, as well as reinvented vintage suits – repurposing luxury fabrics that no longer serve their original purpose.
The fashion collection is the latest inventive way the climate stripes have been adopted since they were created in 2018. Since then, they have also been spotted on the main stage at Reading Festival, shared on television shows all over the world, and printed on the side of a Tesla.
Discover more about Professor Hawkins' research, or take a closer look at Tammam's climate stripes collection.
Photo credit: Ari & Lucy Photography