We can't stop climate change completely – but we can reduce how much it impacts in the future. Dr Dan Williams, Founder & CEO of measurable.energy and Reading graduate, reveals how his business is helping to save the planet – including on campus at Reading.
Dan has always had a passion for environmental sustainability and creating technology for the greater good. After a stint of working in various roles and organisations – including at the National Trust – Dan was desperate to go back into the world of academia and decided to embark on an Engineering Doctorate (EngD) at Reading.
He explained:
"It was the Technologies for Sustainable Built Environments [TSBE] Centre that attracted me to come to Reading. What really sparked my interest in the Centre was its focus on bringing academia and industry together to work in the same space."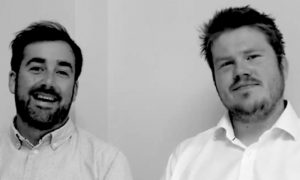 Dan also shared that he made lifelong connections at Reading. "It's where I met my husband, and a couple of years later my business partner, Josh."
Dan's doctorate was focussed on the environmental and energy impact of Microsoft's software services. Upon graduating, he took the knowledge he learnt whilst at Reading and set up his own consultancy business called Qingtech – where he continued to work with Microsoft and other organisations including the BBC and Google to help them with their sustainability strategies.
Alongside this work, Dan also set up another business called measurable.energy (m.e), which is focussed on helping businesses eliminate wasted electricity and greenhouse gas emissions through a new, innovative smart power socket.
Smart behaviours
"The smart power socket we have developed can measure power very frequently and accurately," he explained.
"It finds wasted energy and greenhouse gas emissions using machine learning and automatically gets rid of anything that's classified as waste. For example, if you left your computer or a light on in your office overnight, our system would detect that and turn it off."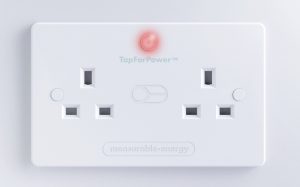 However, it's not just wasted energy that Dan's smart sockets can detect – he revealed that they also have a built-in light that helps people understand the impact of their energy use, in real-time.
"The light represents how 'clean' or 'dirty' the energy is. When power from renewable sources is being generated the light glows green, and when power from burning fossil fuels is being produced the light will glow red.
"The idea behind the light is to make people think about when to use devices and attempt to make power use more tangible. For example, deciding to charge your phone when there's more renewable power being generated."
Reducing Reading's environmental impact
Dan has continued his relationship with the University as a THRIVE Mentor and is also working with the sustainability team to reduce Reading's environmental impact on campus.
Since February 2020 he has been piloting his smart power sockets on campus.
"Dan Fernbank – Reading's Energy and Sustainability Director – and his team wanted to find out how much energy some of the University's old equipment was using," he explained. "He asked us to monitor laboratory fridges, freezers and drying cabinets [which are used for sterilising lab equipment].
"Using our smart socket technology, Dan and his team have been able to prove the business value in replacing some of their old equipment with new, more efficient technology, and have replaced over 70 different units so far."
Dan Fernbank said: "We are very proud of the success of this project, and thanks to m.e's technology, we have been able to accurately measure annual savings of £5,500 and £11,500 from our freezers and drying cabinets. We look forward to continuing to work with Dan and his team in the future."
The future of technology
Reflecting on his own personal views about climate change and the future of technology, Dan Williams said:
"There's no doubt that we are in an incredibly drastic situation. We can't stop climate change, but what we can do is create sustainable technology to help us reduce our environmental impact. As long as we are using these technologies in the right way and for the greater good, I think we're on the right road to becoming more sustainable."
Looking ahead to the future, Dan told CONNECTED that he'd like to see lots of businesses adopt his m.e smart power sockets.
"Helping to save the planet by eliminating wasted energy on a much larger scale is my goal for the future," he concluded.
Discover more about m.e, or find out what else the sustainability team and catering team are doing to reduce the University's carbon footprint on campus.