Matt Tebbit, Reading graduate and Head of Bars and Dining at the University, tells CONNECTED how thousands more environmentally-friendly plant-based recipes have been added to our campus menus as part of Reading's proud commitment to a more sustainable food ethos.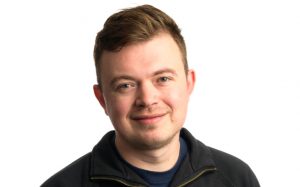 The University bars and dining team's central aim is "providing quality food and drink made from scratch, and delivering the highest levels of customer satisfaction in a manner that is financially, environmentally and socially sustainable," Matt explained.
His team took full advantage of the slowdown in custom during the first COVID-19 lockdown in 2020 to create a new way of feeding students.
"We're revolutionising university catering. A lot of hot food came out of boxes before the pandemic, but now we're focusing on nutrition and sustainability.
"This was in the pipeline before the pandemic and we took the opportunity to create and refine our recipes during the first lockdown. The luxury of having more time allowed our Head Chef to complete around 6,500 new recipes in 12 months. These recipes were then used to populate our 51-week menu cycle reflecting seasonality and our new approach to food," Matt shared.
"Our catering staff are now given a recipe and the ingredients needed to make a homemade meal from scratch. Now the only items in our freezer are meals our staff have pre-prepared such as bolognaise; the most processed item in our kitchen is bread; and we source fresh ingredients from sustainable producers, including beef and fruit from the University's farms.
"This has been the single largest change that most of our catering staff have seen in their entire working lives – it was a massive overhaul, but the staff have coped really well."
Menus of Change
Matt explains that the University are following the Menus of Change initiative, as they embark on their journey of transforming Reading's food system for the future. Menus of Change is a ground-breaking initiative from The Culinary Institute of America which works to integrate optimal nutrition and public health, environmental stewardship and restoration, and social responsibility concerns within the food service industry and culinary profession.
"All of our new recipes align to the Menus of Change 24 Principles of Healthy and Sustainable Menus, which focus on transparency, cutting salt from diets, building the flavour from the bottom up and sustainability," Matt shared.
Reading is also proud to be the first European university to join the Menus of Change Universities Research Collaborative (MCURC) network. This network is an international group of leading universities whose aim is to cultivate the long-term well-being of all people and the planet – one student, one meal at a time.
Matt said:
"Joining the MCURC network strengthens our commitment to providing sustainable food and drink on our campuses. Focusing on quality not quantity, creating delicious, plant-based meals, and harnessing renewable energy, are all ways we can drive down the University's carbon footprint as well as make our students and staff healthier."
Living Laboratories
Another element of Matt's new approach is to form better partnerships within the University by working with academics at Reading.
Matt said: "Long-term it's about matching Reading's academic standing in and around food. We hope to work more collaboratively across the University to improve our food offering, and to benefit students and academics with the research happening in catering spaces – we're calling this the Living Laboratories concept.
"We have turned our dining rooms into live laboratories where we can study eating behaviours, teach sustainable practices, and come up with brand-new ideas – while also using the expert knowledge of our own researchers to improve our menus.
"This work with academic colleagues to utilise the University's dining rooms to support teaching and research, and sharing of knowledge and expertise, is a gradual but steady change. We are all learning more each week about what we all do, how we do it, and how we can elevate our sustainable food offering by working together."
Continuing the revolution
Matt hasn't finished overhauling the University's catering yet and shares a glimpse of his plans for the future.
He said:
"Over time, we hope that by working collaboratively both with colleagues within the University and within the MCURC network, we can bring benefit to our entire campus population by offering better nutrition to all, implementing our research into our outlets, and reducing our carbon footprint through sustainable menus.
"We have lots to look forward to in the future including: developing our community teaching and demonstration kitchen, the first pieces of fruit from the National Fruit Collection reaching our dining rooms, and the replacement of our IT systems allowing us to provide a wealth of information to those visiting us, such as upcoming menus, nutrition, allergens and providing data for academic research and teaching."
Find out more about how Reading is creating an eco-friendly environment for all staff and students.