Reading graduate and Operations Manager at Octopus Energy Group, Shaun McHugh, speaks to CONNECTED about how the Group is trying to make the world a better place and expresses his views on the importance of generating energy that is fit for the future.
Shaun studied geography and environmental sciences at Reading, an experience which he attests has been invaluable throughout his professional career.
He said:
"University taught me to think in a completely different way than I ever had before, and it was this change in my mentality that I believe enabled me to adapt and therefore succeed – whether that be through short-term roles to gain some experience, or longer-term roles focussed on developing my career."
Upon graduating from university, Shaun forayed into the working world as an environmental consultant. Unfortunately, just over a year into his first job he got made redundant – a decision he describes as "a real wake-up call" which set him on a journey to find his perfect career.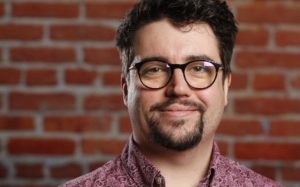 After being made redundant and unsure what route to take, Shaun embarked on a series of short-term roles including at charities, estate agents, the National Health Service and within the energy sector, to explore what it was he wanted to pursue.
"Although it has taken me a long time to find both an industry and organisation that I love working for, I truly believe all the experiences I've had have been instrumental in developing me for my latest role," Shaun reflected.
Making the world a better place
Shaun joined Octopus Energy Group when it was considered a start-up company and has been a core part of the business since it was first established in 2016. In his latest role as Operations Manager, Shaun is responsible for developing and implementing better processes.
"My job is to identify tasks across the business that are disorganised, inefficient and unsustainable, and build better, more sustainable processes to support those tasks. I don't always know what I'm going to be doing from one project to the next, or even day-to-day sometimes – which can be stressful – but it's certainly never boring," he explained.
"What excites me about Octopus Energy is that the company has a clear vision of what it wants to achieve and how it's going to deliver that vision.
"Collectively, we're trying to make the world a better place by supplying people with energy that's good for the planet, good for people's wallets, and good for their souls, and I feel incredibly fortunate to be a part of that."
Generating energy that is fit for the future
Shaun believes that renewable energy is going to be vital in the fight against climate change and the survival of humankind.
He said:
"We know that renewable energy works. The biggest challenge facing the sector right now is how do we use sustainable technology to support the generation of this energy, and gain support to be able to fund, develop and implement this technology across the world.
"Whilst I know technology won't fix everything, generating energy that's fit for the future is going to be really important in helping us to transition to net zero and protect our planet for future generations."
Personal action
Shaun shares his personal views on climate change and what actions he is taking to become more sustainable.
He said: "It's the decisions that we all make, collectively, that are going to be key in helping to mitigate the effects of climate change.
"In terms of personal action, I try to avoid eating meat as I think it's really bad for our planet. I've also chosen to work for a company that understands the multifaceted challenges that the world is facing, and who are attempting to lead the way in addressing some of those fundamental issues."
Be brave and try something new
Finally, Shaun offers some advice to graduates who may be feeling unsure what career they want to embark on.
He concluded:
"Keep learning and keep going and if something isn't working for you, be brave and try something new.
"If you want to enjoy your career, then my advice to you is find a job or organisation that you are passionate about."
Discover more about studying geography and environmental sciences at Reading, or find out more about Octopus Energy Group.