"If you don't preserve the past, understand it and study it, then you may as well believe anything you like." 
This week, CONNECTED speaks to self-confessed history fiend and successful museum curator, Dame Diane Lees DBE, about pivotal points from her own past that continue to influence and impact on her here and now.
The first female Director-General of the Imperial War Museums is certainly not short of major references to reflect on. Her involvement in the recovery and display of the Mary Rose – almost half a millennium after Henry VIII's warship was lost – and in the chronicling of the Falklands War as British boats returned from the South Atlantic, inspired Diane to go on to pursue her current role.
As an alumna of the Open University rather than a former Whiteknights campus resident, Diane's brush with Berkshire may have been briefer than others but it has had a significant bearing on her professional approach.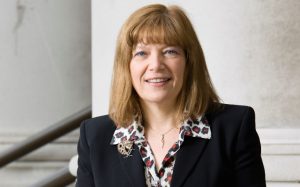 She said: "There are lots of universities with historic collections but Reading's Museum of English Rural Life [MERL] is particularly interesting; it is not a typological, entymological or medical research collection but it is about people and their environment and that is quite unusual in museum terms. For years and years it was at the forefront of museum outreach, working outside of buildings and with schools – something that nobody else was doing.
"The MERL is one of the great case studies for any museum professional. It was and still is a real exemplar in the way it thinks about the way it works."
Diane, who began her career as a historic buildings researcher before switching her focus to exhibitions, education and interpretation, added: "One of the first education projects I oversaw copied what they were doing at Reading – the creation of school loan boxes.
"Kits containing museum objects, education and teaching materials were taken out to schools to be used in the classroom and then returned; it was a brilliant scheme."
Learning from the past
Despite now being an expert practitioner in her own right – a standing reaffirmed by her award of a DBE in this year's New Year Honours List for her services to museums and cultural heritage – Diane's desire to learn from the lessons of the past remains undiminished.
Of her own thirst for knowledge, the former director of the V&A Museum of Childhood and creator of the UK's only museum of law – the Galleries of Justice in Nottingham – said:
"I am just a history fiend. I have to know the why, what, when and how – it is just how my mind works. If I look at something that is happening today, I always want to understand the history behind it."
Arming others with the ability to unlock this information is central to her mission at the Imperial War Museums (IWM), and is why Diane believes access to historical collections increase in value to global society with every passing day.
Diane, who was awarded an Honorary Doctor of Letters by the University of Reading in 2015 in recognition of her deep belief in the relevance of museums to people's lives, continued:
"If you consider today's political turmoil, there are a lot of words like Hitler, fascist and Nazi being bandied around and our job, as trusted organisations with authority, is to say 'that's not a true comparison because we know the true origins of that terminology'.
"If you don't preserve the past, understand it and study it, then you may as well believe anything you like.
"In an age of fake news, museums provide places of trust, places where the reliance on the written record, on the interpretation of objects in context and in society at a particular point in time is absolutely critical in trying to understand what is going on in the world today.
"Without this knowledge we are completely ungrounded and rudderless – we have no identity or possibility of discussing identity."
And with the consequences of conflict colossal, it is not lost on Diane that the lessons to be learnt from her own organisation are vital in nurturing broader-minded global citizens.
Citing a IWM exhibition on the humanitarian crisis in Yemen, she explained:
"Our purpose is to make sure that when the audience leave the museum they are confident enough to have a conversation in the pub about what is going on; that is a specific goal. We give visitors enough information to feel they are aware enough to discuss the topic with people they know.
"That way we can create a movement of people who are able to consider the causes and consequences and who have a more sophisticated response to the call and necessity for war."
Historical collections in the modern day
The cyclical nature of conflict further underlines the importance of its study according to Diane, who was responsible for overseeing the creation of the UK standard for the recording of information about museum collections. 
"The reason we featured Yemen is because British troops had a very large presence in Aden and, similarly, we held an exhibition on Syria because we've marched all over it several times with big British boots.
"There are continuous narratives to war – if you look at a map of the world and consider where trouble is likely to kick off, it is very likely to be somewhere it's been before. If you consistently try to enforce a Western democracy on a tribal state it is never going to end well; history tells us this.
"Part of the problem for politicians is that they think that war now looks different, but war has always been asymmetrical, war has always been about conflicting sides. There are common factors and denominators, which is why we are still reading books on warcraft that were created by the Chinese in 2000BC.
"What's the point of keeping all this stuff from the past if we don't learn from it?" 
Be tenacious
Finally, Diane offers her advice to today's aspiring historians and curators.
She concluded: "Continue to grow knowledge with a mixture of courage and empathy.
"Be tenacious in getting a job that supports your own values, and surround yourself with a supportive peer network."
Discover more about the IWM or Reading's Museum of English Rural Life.