The autumn term saw many of our students return to campus. However, due to the ongoing pandemic, teaching was delivered as a blend of face-to-face and online learning with students heavily reliant on access to a laptop and the internet to be able to continue with their studies. 
This greater dependence on technology presented a very real struggle for those without their own laptop or reliable broadband connection.
Helping students to achieve more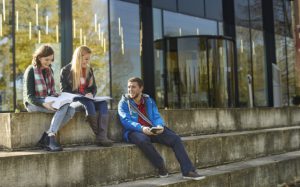 Thanks to the generous contributions of alumni and supporters to the University, throughout the autumn term we were able to offer help to every student who requested support because they were unable to access digital equipment due to financial hardship.
Supporters helped to provide laptops to low-income students, secured reliable internet for those that were isolating, and supplied software to students undertaking specialist degrees.
Eloise – who applied to the Digital Support Fund to ask for help to replace her computer after it stopped working – said:
"I wasn't on campus during the lockdowns. I stayed at home with my parents and had to rely on my own computer for everything. My laptop was old and slow and the increased use during the pandemic was too much for it – it would take me about an hour to watch a 15-minute video and I had to wake up extra early just to turn my laptop on as it took so long to start.
"There was a family computer at home that I could share with my mum, but the microphone on it doesn't work and it was impossible to participate properly in any lectures that required student interaction.
"I come from a low-income family and the strain of having another person at home was already too much. Before the pandemic I worked multiple jobs throughout term-time to help support myself but with the lockdowns I couldn't, and buying a new laptop just wasn't an option.
"I applied to the Digital Support Fund out of desperation.
"My summer exams were coming up and I knew I wouldn't be able to get all of my work done without a better computer.
"Fortunately, I received the grant very quickly and bought a laptop straight away. I was able to do revision and my exams without experiencing any technical problems. I could even watch lecture videos whilst revising which would have been impossible before.
"I want to say thank you to everyone who donated – the lockdowns were a really stressful time for me and your support made such a difference.
"You helped me to complete more work and fully participate in my degree. Thanks to you I could stay connected, I was less isolated and I was more successful in my studies."
In an increasingly digital world, access to digital equipment is a necessity. The Digital Support Fund is empowering students like Eloise to achieve more, enabling them to fully engage in their studies and get the most out of their university experience. Thank you for your support.
Find out more about The Digital Support Fund.