Mat Lown – chartered building surveyor and Partner at Tuffin Feraby Taylor (TFT) – speaks to CONNECTED about his passion for sustainability and creatively redesigning existing buildings for a greener future.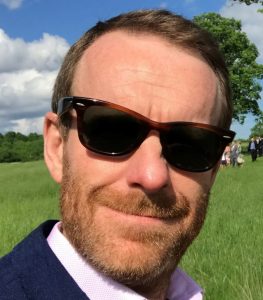 In 2007, Mat founded TFT's sustainability consultancy and now works to help clients understand sustainability risks and opportunities when making property investments. However, it was when choosing his dissertation topic in the final year of his building surveying degree at Reading, that his interest in sustainability within the construction sector was first sparked.
"When I chose my dissertation topic in the early '90s, the activities of Greenpeace and Friends of the Earth – including Greenpeace's new sustainable headquarters – were in the news a lot," he explained. "As well as topics such as climate change, deforestation and the use of hard wood in buildings, which really resonated with me.
"I spent hours in the Library doing research and found there was very little on the topic as a whole.
"The more I researched it the more it became clear that living sustainably was, and still is, the only logical and rational thing to do. We only have one planet and finite resources. Today the world is waking up to this problem, but we're already starting to see the effects of climate change and it feels very real to me."
Mat's dissertation – called Building a Greener Future – was published in 1991 and he cites his tutor, Keith Bright, as having been a huge support to him throughout his time at university.
He said: "I'm so glad I chose Reading for my degree. It contained a real mix – from the technical, such as engineering, to the more creative, such as architecture – which really appealed to me. I had a fantastic experience, made lifelong friends, and loved the incredible programme taught by market leaders who really knew their stuff."
30 years later, Mat is now championing sustainability in real estate in the midst of an industry tipping point. TFT's latest research on Redefining Building Performance shows how important sustainability is to industry leaders. Mat shares with CONNECTED how sustainability got pushed to the top of the agenda, why it is so important, and what he himself is doing about it.
An evolution
Mat joined TFT 25 years ago and during his time there, has witnessed the evolution of the industry's attitudes towards sustainability. The publication of the Stern review in 2006 and the Climate Change Act in 2008 made the industry realise it needed to adopt a more sustainable approach. He said:
"When I first graduated, sustainability was seen as the morally-driven thing to do rather than a business imperative. But in the mid-2000s the conversation changed. TFT knew that if we didn't change our priorities, we risked losing long-standing clients who were now focusing on sustainability to ensure that the properties they invested in would still be valuable in the future."
TFT's willingness to lead the way in adapting to these pressures and to review their sustainability strategy is why Mat is still with them today.
He said: "The new sustainability agenda played to my strengths and interests – I'd researched it at university and knew the fundamentals. When I proposed our sustainability consultancy, the partners and David Tuffin – one of the founders – backed me from the outset, despite there being no obvious revenue stream. That takes commitment, vision and belief."
In his current role, Mat and his team provide advice to clients focused on driving down carbon emissions in properties – in alignment with The Paris Agreement to keep the world's warming to 1.5 degrees. The firm's research supports its sustainability focus which is geared to provide ambitious solutions which investors and developers can use to create sustainable buildings.
Mat explained: "Our approach is twofold – mitigation and adaptation. Foremost we are focused on mitigation – how to reduce the carbon footprint of buildings. For example, removing gas, installing highly efficient building services and improving thermal performance. Embodied carbon is a key consideration too – reducing new material use, but reusing products and materials in our buildings, and designing buildings with lower-carbon materials such as timber instead of steel and concrete.
"The majority of existing buildings will still be around in 2050, and the challenge for building surveyors is to problem-solve how to improve them rather than replace them.
"Secondly, we are thinking about adaptation – how to make buildings resilient for a future that could be over two degrees warmer if we fail to meet the Paris targets. Our clients don't want to invest in buildings that suffer power outages and can't cope with flooding, for example. So we look at how to make a building more resilient in a warmer world, such as better performing walls to moderate conditions without the need for air conditioning."
The next generation
Mat believes that the next generation will be key to tackling rising carbon emissions in the industry.
"This industry brings together so many different sectors – from real estate to construction, to technical to legal – it's a great area to work in that is constantly changing. I personally love working with such a diverse bunch of people in an inclusive environment.
"There is such huge scope for growth in the sector but unfortunately it will be a lack of people that will hold us back. We need more graduates, such as built environment professionals and engineers, as well as people doing the practical hands-on work of retrofitting, repairing and prolonging the life of our buildings. Brexit and the pandemic have led to a huge skills shortage in the industry."
To help address this shortage, Mat does talks in schools and at career events. He is also a THRIVE mentor at the University, and his most recent mentee is looking at creating digital twins of buildings to help work out how to improve building performance. Mat said:
"She has some great ideas about the digital world which are really eye-opening. The development of advanced modelling techniques will speed up the time-consuming process of assessing buildings and their carbon emissions individually, and make a huge difference in the industry."
Business as usual
Mat's passion for sustainability doesn't stop at work; he also embeds it into his personal life.
He said: "I live in a Victorian house which we've insulated and our next step, when our gas boiler reaches the end of its life, is to switch that to electric. I walk and cycle as much as I can – including the 30-mile round cycling trip to the office, as well as focusing on reducing meat and dairy in my diet."
Surrounded by the challenges of creating a more sustainable world in his professional life, CONNECTED asks Mat how he feels about the future. "I am an optimist regarding our future, especially given recent strides made in the right direction.
"In a way I'd like my role not to exist in the future, because that means the industry has embraced sustainability as business as usual. But I think there will always be new challenges to address in this area. Sometimes the pace of change can be exhausting – my role today is so different to what I did five or ten years ago – it's always evolving but that also keeps it exciting."
Find out more about TFT, or discover what it's like to study building surveying at Reading.