CONNECTED speaks to Liz Hancocks, an ecologist at Natural Resources Wales, about her passion for nature and the importance of engaging people with it.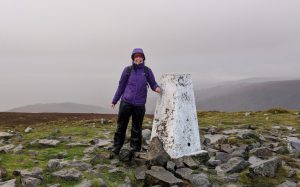 Working in conservation has, for Liz, seemed inevitable since she was a child. "My background before university really paved the way for my interest in ecology. My grandparents are retired dairy farmers, my dad is a retired ecologist, and I spent a lot of time on nature reserves and doing bug hunts as a child. I've always been exposed to the outdoors and nature," she said. "And I'm really driven to do as much as possible in this area.
"Biodiversity underpins all the services we get from nature. If we don't have biodiversity, and if our species and wildlife aren't healthy, then we won't get the ecosystem that humans depend on for clean water, air and food.
"More fundamentally, we don't have the right to make species extinct and destroy their homes. We all need to learn to live with nature and to share the resources available to us on the planet with the natural world, which we depend upon for so much."
A nature recovery plan
Liz's environmental biology degree at Reading taught her a variety of valuable skills for her future career – from identifying insects, to agri-environment schemes and soil science. Her next step was a master's at the University of Oxford in biological conservation, which after several roles in this field, led her to Natural Resources Wales where she is Senior Officer for People & Places.
Liz's current role focuses on Section 11 of the Welsh Environment Act of 2016, which assesses the opportunities and risks of natural resources in an area. For Liz's team, that area is the South Central region of Wales, which encompasses Cardiff.
She said: "For the first 18 months of my role, I produced technical reports to inform and shape nature recovery plans. These reports expanded our evidence base and now I'm working to create resilient, ecological networks.
"In Wales, we have a really active network of local nature partnerships. They are a key audience for us, so it's really important that we work together to ensure our vision translates into action."
Liz reflects on what she believes is the biggest challenge for nature recovery in Wales. She said: "We've got 900,000 people living in this region – it is a very densely populated area. That's not to say that people are the problem, but rather that we have a challenge in balancing the number of people with nature's needs.
"Our key message is that we need to share this space with nature and live alongside it."
Liz is proud that Wales is committed to tackling climate change, giving her hope for the future. "The Welsh government declared a climate emergency in 2019 and a nature emergency in June 2021," she said. "It's definitely high on the policy agenda in Wales, and there is also a big focus on a green recovery from the pandemic."
Green living
Liz's commitment to living more sustainably also extends to her personal life.
"My husband and I explored co-housing and building sustainable, low or zero carbon houses with friends during the pandemic," she said. "We learnt a lot from that process, and about the materials that could be used, for example using timber frames and a straw bale infill. Instead of building a new house, we've decided to retrofit our family home."
Liz has also made smaller, more immediate changes, including having an organic vegetable box delivered, using a sustainable energy provider, and cycling or using public transport wherever possible. She said:
"Our biggest personal impacts are our energy, transport and food choices, so for me that is where we can make the biggest changes on an individual level."
Liz also gives up her free time to support the next generation of environmentalists through mentoring and informal career advice – including as a THRIVE Mentor for the University.
She said: "I mentor because I like helping people break down their goals and dreams into small steps, whether that's smartening up their CV or becoming a professional body member.
"At Reading, I really enjoyed seeing the students' confidence build from their second to third years of study. It was a really satisfying role and I'd definitely recommend mentoring to other people if they have the opportunity to do it."
Crossing ecological thresholds
Liz shares her thoughts on what the future might hold for our planet: "So much has happened in the last 12 years since I left Reading. With people like David Attenborough and Greta Thunberg making a profound impact on the public's consciousness, we are more aware of climate change," she said.
"But there is still a long way to go. We can't just place the burden on the individual because that doesn't work – we can only buy what is on the shelves and drive the cars that are available to us. We need wider structural, systematic change to help us make the best choices for the planet.
"We need to work on a larger scale and with more people to turn the ship around. There are some ecological thresholds that we do not want to cross, which will have a major impact on people.
"By creating nature recovery plans and figuring out how to restore nature gives me hope. We know it can work, we just need to do it faster."
Find out more about Natural Resources Wales, or studying biological sciences at Reading.