Reading graduate, Debbie Aston, talks to CONNECTED about placing sustainability at the heart of the property industry.
From a young age, Debbie can remember having an awareness of the fragility of the natural environment and, one memory in particular inspired her to embark on a sustainability-focused career.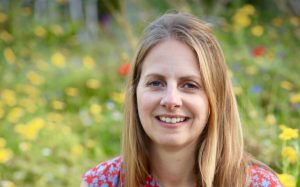 "I vividly remember walking across a landfill site in the days before recycling centres, and being taken aback at the vast amount of rubbish strewn in every direction," she recalled. "I wondered what harm was being caused to this relatively small area and similar areas like it. This stayed with me as I got older and it got me thinking – there has to be a way of influencing people's mindset to create a more sustainable future."
Inspired, Debbie dedicated her studies to learning more about the Earth and its processes and the environment and sustainability. Debbie studied geology at University College London before embarking on a master's in hydrogeology and groundwater chemistry at Reading, and completed her studies with a PhD at Imperial College London. She said:
"My time at Reading introduced me to my first hands-on chemical analysis of spring water and the pollutants found within it. I really enjoyed the environmental pollution aspect of the course, which led me to focus on contaminants in recycled paper food packaging for my PhD and testing whether they migrated into food.
"We found that recycled paper was relatively safe to use with most types of food, apart from greasy food, enabling recycled paper to be used more freely in the food industry."
After completing her studies, Debbie decided to use her sustainability expertise in the property sector, where she is now a Director in Upstream Sustainability Services at JLL.
A sustainable shift
Debbie began her career with Upstream which, at the time, was a small, independent, environmental consultancy which advised property companies, corporate occupiers and institutional investors on sustainability. A year later, in 2007, Upstream was acquired by JLL – the global professional services and investment management firm specialising in real estate.
Debbie explained how the prominence of sustainability has evolved within the property sector:
"In the time that I've been working with JLL we've seen the industry transform and head in a more sustainable direction, and we've been actively involved in this huge shift.
"We had a strong group of clients who could see the writing on the wall when it came to the sustainability of property and climate change. Understandably, they wanted to mitigate climate risks within their property funds, such as flooding and contagion flooding, property flexibility, energy use awareness and reduction, proximity to green space for health and well-being, and accessibility to public transport.
"The foundations of awareness of sustainability were beginning to be laid within the property industry and they have developed at a rapid pace ever since."
JLL has since launched their own ambitious sustainability agenda which has become a prominent centre of expertise for the industry; supporting, challenging and inspiring its people and clients within the real estate sector to create a prosperous economy, a flourishing society and a healthy environment.
As Debbie's career progressed within JLL, she became heavily involved with carbon and energy compliance, and is now leading on their Carbon Compliance and Assurance Services.
"My work in this area began with the 'Carbon Reduction Commitment Energy Efficiency Scheme' in 2010, which compelled companies who used over a certain level of energy to report and buy carbon allowances, reflective of their carbon emissions.
"In 2019, this was replaced by the 'Streamlined Energy and Carbon Reporting Scheme', which mandated companies to make disclosures on their energy and carbon emissions within their annual financial filings to Companies House – putting carbon reporting on a par with financial reporting," she explained.
"I also work on Article 8 – one of the key policy instruments of the EU Energy Efficiency Directive – which requires large companies to carry out energy audits on their buildings to highlight where to focus on to make the greatest energy savings. We work with many clients across Europe to help them achieve Article 8 compliance across their businesses, and to measure, manage and reduce energy."
Driving impactful change
JLL's aim is to 'drive lasting and positive change by embedding sustainability into everything we do' – a statement which Debbie wholeheartedly agrees with.
"By helping businesses in the property industry to take a responsible and sustainable approach, we are contributing to a better world and shaping the future of real estate.
"My ambitions are to continue to help, influence, offer expertise as needed, and to hold out a fair and trusted hand to those companies who are committed to making sustainable changes in the way their businesses behave."
Find out more about Upstream Sustainability Services at JLL.