CONNECTED speaks to Reading graduate, David Nangoma, about his lifelong ambition to help protect Malawi's natural wildlife.
David's interest in wildlife and plant sciences began in his childhood where he was raised in the Serengeti National Park by his grandad. "My grandad was a real inspiration," he said.
"And my goal since a child has been to become a park ranger, which led me to pursue studies and a career in conservation."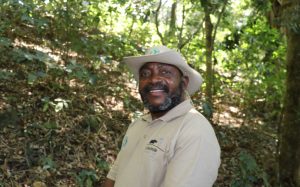 David completed degrees in agriculture and plant science in Malawi and began working for the National Herbarium, before studying at Reading's School of Biological Sciences.
He said: "My time at the University was fantastic. I initially came for a short postgraduate course on plant conservation on a Global Environmental Facility Sponsorship, but ended up returning six months later to do my master's degree on plant and fungal taxonomy on a British Chevening Scholarship.
"The staff and students I met at Reading helped shape the person I am today, and I really cherish all of the experiences I gained whilst I was there. It was during a research trip to Spain that I realised just how much the world needs people to champion biodiversity and conservation. We need to live in harmony with nature."
Winning over communities
Since graduating from Reading, David's career has taken him to Malawi's biodiversity hotspots including the Lake Chilwa Wetland, Mulanje Mountain Conservation Trust and African Parks.
He said: "I was the Biodiversity Conservation Project Manager at the Mulanje Mountain Conservation Trust for 13 years. This is one of the main biodiverse-rich mountains in Malawi with many species living there, including the critically endangered Mulanje Cedar Tree. I was responsible for establishing a hub of information about the mountain's species, many of which are endemic or critically endangered.
"I then moved to African Parks – a non-profit conservation organisation that manages 22 protected areas in 12 countries on the African continent – where my role was to connect the local community with the park and get them onside with the importance of conservation."
Throughout his career David has faced the challenge of protecting entire ecosystems from threats including fire, illegal harvesting, and encroachment into protected areas.
He said: "When African Parks took over the management of Liwonde National Park in 2015 there was chaos, with everyone wanting to take away an animal or a tree. We conducted an aerial survey of land mammals and found about 6,000 animals and around 18,000 snares, which were set up to kill these animals.
"However, relations with the local community have since improved. Communities now report poachers sneaking into the park, rather than encroaching themselves. They are now beginning to help the park to protect our ecosystems.
"To achieve this success, we had to show communities why it was important to protect these areas. For example, we explained that you can only attract tourists – and therefore revenue – if you can increase and protect the number of animals and biodiversity in these areas. And that some of this revenue could then be used to implement community projects – including building classrooms, and offering secondary school and university scholarships to students."
Earlier this year, David achieved his childhood dream and became a Park Ranger for Nkhotakota Wildlife Reserve, and then Park Manager. "In my new role, which is still under African Parks, I have been tasked with managing a protected area with a restored Miombo woodland ecosystem," he said. "Where neighbouring communities are provided with opportunities for enhancing their livelihoods, and stakeholders fully support conservation efforts.
"African Parks took over the management of this reserve in 2015 in a completely ravaged state. However, the reserve is now developing along a trajectory of hope and possibility, where for the first time in decades, local communities are beginning to experience the benefits of the reserve."
The next generation
David is passionate about teaching others to help continue his work. He said: "The next generation need to understand what we are doing and why we are doing it. At African Parks, we support this education through bursaries and learning and teaching materials."
David has already achieved so much, but he still feels there is a long way to go. He said:
"We are doing what we can, but we are losing our vegetation and reserves at an alarming rate. This calls for real political will, not only in Malawi but elsewhere, to put a stop to it. All I want to say to the world is 'let's be strong advocates to protect our ecosystems'."
Find out more about African Parks.