The University of Reading is committed to being a university that supports, works with, and makes a difference in communities around the world; from our local community in Reading, to our alumni communities across the UK and worldwide.
This is why we're pleased to launch the 'Celebrating Our Community's Impact' edition of CONNECTED, where we will celebrate the fantastic work of members of our community – including our alumni, staff and students – here in Reading and around the world.
We strive to be a University for Reading that positively benefits our local community and works in partnership to make an impactful contribution to the town and surrounding areas. Our recent local focus includes launching The Community Fund with the John Sykes Foundation and providing financial support to local initiatives, such as funding a life skills room at homelessness charity Launchpad.  We are partnering with Reading FC to support their efforts to reduce their carbon footprint, and we value the local community support given by alumni such as Alison Peyton, who runs a local food bank, ReadiFood.
We are also a global community – we have over 5,000 undergraduate and almost 4,200 postgraduate students from around 160 non-UK countries studying across our UK and off-shore campuses, and at our international partnership institutions, for a University of Reading degree. This is in addition to the almost 10,000 undergraduate and 5,900 postgraduate students from the UK studying for a University of Reading qualification.
This breadth and diversity is also reflected in our international alumni community and we are proud of the work our community does to make an impact nationally and globally. We have recently recognised, by way of an Honorary Doctorate, graduate Tom Clarke, the Science and Technology Editor for Sky News, who has been recognised for his efforts in communicating complex messages during the COVID-19 pandemic and on climate change, and Nancy Mudenyo Hunt, whose charity work in Kenya has changed the lives of countless children.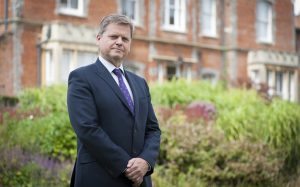 Professor Robert Van de Noort, Vice-Chancellor of the University of Reading, said: "Our mission to make a difference in people's lives was fundamental when we were established a century ago and is just as important today.
"Our staff, students and alumni work hard to help people in the UK and in communities worldwide, and I am proud to celebrate and showcase their work."
Share your story
We want to hear from you! Please get in touch to share with us how you are making an impact in your community – whether through your research, volunteering, your job, or a hobby – we want to know about the valued role you play in your community, wherever you live.
Email us to share your story and we hope you enjoy the stories we share from our global community.