As part of LGBT+ History Month, CONNECTED speaks with graduate James Fletcher on his experience of coming out at the University of Reading and his commitment to volunteering.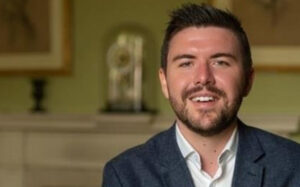 James, who studied Politics and International Relations, embarked on his higher education journey as the first in his family to go to university. Despite this, James found university to be the place that shaped his subsequent career choices, way of thinking, and found him friends for life, as well as love.
James said: "I come from a very supportive and loving family in South Wales. I was the first person in my family to go to university, though when I was at Reading, this wasn't something I thought much about. It was a brilliant three years and I absolutely loved my degree.
"Reading is a wonderful campus university where you get to know everyone. It's a place where you can get involved in fun things, meet lots of people, and it feels like a safe environment."
James spoke to CONNECTED to share his insights into what coming out at university was like and what could be done to better support the LGBTQ+ community, as well as his passion for helping others.
An inspirational year
James' enthusiasm for life at Reading led him to successfully stand for election as President of the Reading University Students' Union (RUSU) for 2012-13. Alongside this role, James was also chair of the RUSU Trustee Board, having previously served as President of Bulmershe Junior Common Room and as a Student Ambassador for the Student Recruitment and Outreach Office.
He describes his 'sabbatical' year at RUSU as an inspirational moment which started him on the path towards his career in the charity sector.
James explained: "I think the charity sector is full of amazing people who do all they can to make the world a better place. I'm so inspired by them every day. The example set by others encourages me to play my small part in making the world a better place too, and I hope that I have been able to succeed in doing that. 
"It was during my time as President of RUSU that I decided that the charity sector was where I wanted to focus my career."
And it really was the place for James. Since leaving RUSU, James' career has focused on raising philanthropic gifts for charities and universities and he is currently Deputy Director of Development at Oriel College, University of Oxford.
Outside of his paid career, he is currently the Chair of the Board of Trustees for the KFC Foundation. This foundation is the giving arm of KFC UK and Ireland, which donates between £1-2 million a year to charity. The aim of the foundation is to support grassroots organisations that empower children and young people across the UK, helping them to fulfil their potential by providing safe places for them to unlock their talent.
James said: "We all know that there are periods in everyone's lives where you come to a junction, and there are a number of paths that you could choose, all of which could lead to different outcomes. In the formative teenage and young adult period these junctions come thick and fast. That's the period that we focus on at the KFC Foundation.
"We are there to help young people unlock their potential and build a positive future, helping them to build life skills to improve their chances of gaining meaningful employment. We want as many young people as possible to avoid contact with the criminal justice system, and to improve the life chances of vulnerable people."
James also sits on the board of the John Lewis Partnership's Golden Jubilee Trust – this organisation supports John Lewis and Waitrose Partners in volunteering for a charity of their choice while continuing their employment. Each secondment facilitates projects that the charity would otherwise struggle to achieve. Last year, 25 Partners were supported by the Trust, each of whom made a huge difference to their charities.
James believes that the time he spent at the University of Reading played a crucial part in preparing him for the path he has taken within the charity sector today, and he continues to support students of the University as a regular donor to the Enabling Students fund. James said:
"Supporting students and providing financial aid helps to break down a number of barriers to success, reducing the threshold for enabling people to get into higher education. This means that university can become a place where everyone can thrive without the burden of financial worry.
"It's a very small amount a month to contribute to help somebody at Reading. When you think about it, it's less than a pint of beer."
A chance to be myself
Along with introducing him to the charity sector, James describes his time at University as giving him the opportunity to be himself. James came out as gay during his tenure as RUSU President, and although he was fortunate enough to have had a positive reaction, it was an insightful experience.
He recalled: "That year was a real grounding for the rest of my life, which sounds quite grand but it's true. It was a time when I really just allowed myself to be myself. I was lucky to have the support of my colleagues, who were my close friends too, and of University and SU colleagues. I was proud, and knew that others felt the same. I am so grateful for their kindness – they know who they are.
"The whole process gave me the confidence to be who I am and to meet my amazing partner of what is now ten years. We have had a great decade, and that is thanks, in great part, to our initial meeting at Reading."
Despite having a positive experience, himself, James is aware that not everyone does. In his view, the best way to support someone who is struggling or just starting to open up about their identity is to just listen and be supportive in the way that those who are coming out need. He said:
"It's important to remember that for the person who is coming out, it's a very big deal. Even if it's not a big deal to you, the listener.
"And saying that you've 'known all along' is definitely not the thing to say. They may have spent many years struggling with who they are, it is not affirming for them to find out that they were the last person to know.
"The best support I had is from those who just listened. Of course, I didn't get the words right. I didn't know exactly what I wanted to say. So, I needed a few people to listen in order to give me the opportunity to speak – to just monologue and get it wrong in front of them so I could get it right later."
Room to grow
Whilst support of the LGBTQ+ community has come a long way in the decade since James came out, there is still room for improvement. Indeed, James notes that in societies around the world, some LGBTQ+ rights have been in retreat.
James explained: "It's been amazing to be part of the LGBTQ+ community. We continue to adapt to welcome more and more people – so that they have visibility and a voice. Of course, we have more to do. Those of us who can should strive to make our community – and the wider world – better for those who need us to do so.
"I think that the trans community needs a lot of allyship from all of us in society. We need to fight for everyone who is LGBTQ+, not just a select few. There's a whole body of work that needs to be undertaken on how we support our friends in the trans community. We can't be complacent."
James believes there is a societal job to do – we should all be part of the celebration of diverse identities, and of love wherever it is found. He said: "It's just giving people the space, love, and opportunity to be who they want to be.
"Hopefully there'll be a movement in that direction, where we'll just continue to celebrate each other's lives and the diversity that makes the world a lovely place to exist in.
"While we celebrate the LGBTQ+ community, we should also remember there are people who aren't able to be themselves in other parts of the world because of the regime which they live under. Similarly, there are still those who are unable to safely come out still within the UK – for whatever reason – we need to celebrate their lives and fight for them too."
Useful links
Dr Ruvi Ziegler, Chair of the University of Reading's staff LGBT+ network, has recommended a number of sites for those in the LGBT+ community who are in need of support:
Reading Pride showcases ongoing events for the LGBT+ community and allies.
Support U provides support ranging from business support, counselling and reporting hate crimes.
Rainbow Migration helps those in the LGBT+ community with issues surrounding asylum and immigration.
As part of LGBT+ History Month, the University of Reading is hosting a public lecture called 'Queer Tragic Masks LGBT History and Ancient Drama' on 27 February 2023. Book your place here.