In celebration of LGBT+ History Month 2023, CONNECTED speaks to Reading graduate Sarah Hacker, who is an LGBT+ ally, Patron of Reading Pride, and Reading Borough Councillor representing the Battle ward.
Sarah is an individual who wears many hats. She studied Rural Environmental Science in the School of Agriculture, Policy and Development at the University of Reading, while working part-time at Waitrose and training as a ballet teacher. She then embarked on a career in the financial services sector, before deciding to shake things up and moving into the charitable sector, where she is now a Community Fundraiser for PACT (Parents And Children Together).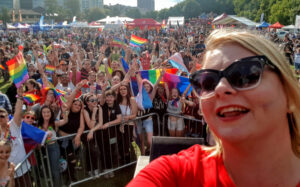 Alongside her career, she is a mum, Councillor for Battle ward in Reading, and was the Mayor of Reading in 2015-2016.
But Sarah still finds time to support the causes she feels passionately about, including supporting the LGBT+ community in Reading. She spoke to CONNECTED to share what Reading Pride is all about and to offer her advice on how we can all be better allies.
Championing the LGBT+ community
Sarah became a Patron of Reading Pride in 2016, before being asked to become a Trustee in 2018. Sarah explained where her motivation to support Pride stems from.
She said: "Being Patron was a lovely role – I was invited to Pride, spoke on stage, and made connections and networks to try to benefit the charity. Then when I was asked to be a Trustee in 2018, I absolutely said yes. Being a Trustee means a bit more involvement and a bit more responsibility in terms of the planning of the festival.
"The reason I said yes to supporting Pride is because it really does completely baffle me why anyone would discriminate anyone based on their sexuality. It's not something I was brought up to perceive negatively. My parents and grandparents taught me to respect and celebrate everyone, no matter what our differences.
"When I became involved in local politics, I realised I could use my voice, my networks, my connections and my profile to help Reading Pride and the community that it serves, and I'm still doing that to this day."
Sarah explained what Pride stands for. "I still believe, as does Reading Pride, that Pride is Protest," she said.
"We're showing that the LGBT+ community is here, we're part of your community, and we welcome you to be part of our community.
"The event is free, so anyone can come, cost is not going to be a barrier to you. We want people to come and understand more about the LGBT+ community. MyUmbrella is a sub-group of Pride which aims to raise awareness of the less-known identities across the LGBT+ spectrum. They come to Pride to talk about all the different sexualities and genders which people maybe don't understand or make fun of because they don't understand them.
"The event is also an opportunity for the LGBT+ community to come together and support each other. It's especially important following lockdown given that we couldn't have in-person events over that time. Bringing people together, giving support to those people who maybe feel a bit uncomfortable about coming out, or aren't sure what they feel, to find out in a friendly way."
Pride is also a chance for other local community organisations to demonstrate their support to the LGBT+ community. "PACT are there, the Women's Institute are there, Scouts, Guides, all sorts of organisations come to show their support," Sarah said. "The festival works both ways – community groups support the LBGT+ community and vice-versa."
Going backwards
As Trustee, Sarah is already working with Pride on organising the 2023 event, set for 2 September, planning the headline acts and looking at budgets. But while Pride is a fantastic event that brings communities together, Sarah thinks there are still many obstacles in the way of equity, equality and respect for everyone.
She said: "It's difficult to comment in-depth, as I'm speaking as an ally as opposed to a person from the LGBT+ community. But from an outside point of view, I know at the moment that a lot of people in the community feel scared and unsupported. I felt we were making huge strides forward up until about 2016 but recent events have proven that not to be the case.
"I know that my friends in the LGBT+ community do feel worried. They are worried about attacks on their freedom and that really saddens me.
"MyUmbrella organises observation dates. For the past few years I've been to the Trans Day of Remembrance. This is where a list of trans people who have been killed – either murdered or who felt they couldn't continue and took their own lives – is read out and we recognise and remember those people. That list keeps going and going and going. One day I hope that list will have disappeared, but at the moment it's in the hundreds still and that's terrible.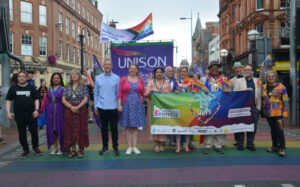 "I feel that now, more than ever, I need to use my voice – in the council and the community and wherever I can – and my skills as a fundraiser to support Reading Pride and the LGBT+ community.
"Pride is a charity, it's not there to make money, but to raise awareness and bring communities together. It's the least I can do, with the privileged position I've found myself in, to do what I can to make Reading Pride more successful, to ensure it keeps going into the future and to ensure that the LGBT+ community feels safe in our town."
Be an ally
To become a better ally to the LGBT+ community, Sarah advises speaking to people within that community as your first step.
"I'd say the first thing you need to do is to talk to people in the LGBT+ community and ask how you can be an ally," she said.
"It's all well sweeping in and thinking you've got an idea of what's important, but until you're actually part of that community, you don't really know what the concerns are. So get involved, come to Pride, and become a member of Pride as an ally.
"Look out for people. If you're at work or down the pub and someone is being hassled with transphobic or homophobic comments, be the person who stands up and tries to put a stop to it. You can be a good ally every day just by looking out for people."
Useful links
Dr Ruvi Ziegler, Chair of the University of Reading's staff LGBT+ network, has recommended a number of sites for those in the LGBT+ community who are in need of support:
Reading Pride showcases ongoing events for the LGBT+ community and allies.
Support U provides support ranging from business support, counselling and reporting hate crimes.
Rainbow Migration helps those in the LGBT+ community with issues surrounding asylum and immigration.
As part of LGBT+ History Month, the University of Reading is hosting a public lecture called 'Queer Tragic Masks LGBT History and Ancient Drama' on 27 February 2023. Book your place here.