In honour of International Women's Day 2023 and Women's History Month, CONNECTED is delighted to share the stories of some of the inspirational women amongst our alumni who are making a difference in their communities.
International Women's Day (IWD) – marked annually on 8 March – was first observed in 1911 and to this day remains a global day celebrating the historical, cultural, and political achievements of women. IWD is also an important day to show support for taking action against gender inequality and promoting women's rights. March is also Women's History Month which honours the contributions of women to history, culture, and society.
The University of Reading is proud to have a long list of influential and inspiring women in our community, from staff to students to alumni. From Professor Edith Morley, who is believed to have been the first female university professor in England appointed in 1908, to current Deputy Vice-Chancellor, Professor Parveen Yaqoob, who has just received an OBE for her services to higher education, we are immensely proud to share and celebrate the achievements of women at Reading.
Today we are sharing a few examples from our global alumni community of women who are making an impact on society and changing the narrative in many different ways.
Register on CONNECTED or update your details with the alumni team to hear more from your alumni community.
Maitreyee Wairagkar
Maitreyee was runner-up in the Scientific Achievement category in the Nature 'Inspiring Women in Science' Awards 2022 and winner of the 2023 India 'UK Achievers Honours' in the category of Science and Innovation.
Maitreyee said of her achievements: "This recognition is especially important to me because neurotechnology is a highly male-dominated field.
"This platform will help me reach women and girls around the world who are interested in careers in technology and sciences."
Read more about Maitreyee's story.
Hilary Withey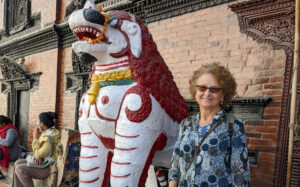 Hilary's dedication to helping others is evident. Alongside her career as a social worker, Hilary commits much of her spare time to volunteering.
She champions human rights through the Reading Amnesty International Group and is volunteering in Nepal working with women and girls who have been victims of human trafficking, rape and domestic violence. Hilary said:
"I've always believed that if you don't do anything, then nothing's going to change."
Read more about Hilary's story.
Mathilda Hodgkins-Byrne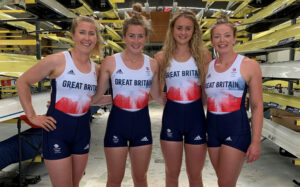 Mathilda discovered a love for rowing as a teenager, and in 2021 became an Olympic rower when she represented Team GB at the Tokyo Olympic Games, as part of the women's quad.
Mathilda said: "To compete at the Olympics makes me feel incredibly proud.
"It just shows if you really put your mind to it and work hard, you can achieve your dreams."
Read more about Mathilda's story.
Dr Nancy Mudenyo Hunt
Born in Kenya, Nancy could see that "without the right kind of support, children in western Kenyan communities have no hope for a future." Determined to provide this support, Nancy and her husband, Jonathan, set up The Nasio Trust.
She said: "I do what I do because I care about the community into which I was born.
"I hate seeing people suffer, especially children, when I know I can do something to help and change their destiny."
Read more about Nancy's story.
Professor Celia Kitzinger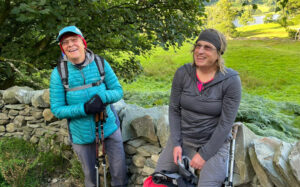 In 2006, Celia campaigned for her lawful Canadian marriage, to wife Sue Wilkinson, to be legally recognised in England. Celia and Sue took their case to the High Court where the judge decided that they were being discriminated against, but that the discrimination was justified, in the judge's view, in order to protect the heterosexual nuclear family.
Celia and Sue never gave up their campaign for equality and the Marriage (Same-Sex Couples) Act came into effect in 2014. Celia said:
"Our history helps us to understand our present and can guide us towards the future. I have lived through a period of tremendous change, and I hope I have contributed to that change."
Read more about Celia's story.
Amy Wood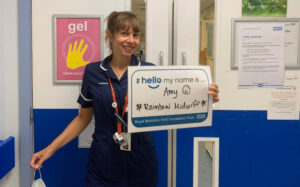 Amy works at the Royal Berkshire Hospital as an NHS Specialist Fetal Medicine Midwife. She supports families who are coping with difficult diagnoses and pregnancy/baby loss. Previously to this she worked as a Bereavement Midwife, supporting families who sadly suffered a miscarriage, stillbirth or neonatal death.
She said: "Although the work can be emotionally and physically challenging, I know that at the end of the day I have made a difference.
"I believe in the NHS as a positive institution in the UK, and I am motivated by making a tangible difference to the families who we provide care for."
Charlotte Arrowsmith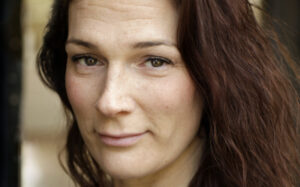 Charlotte is the only Deaf member of her family, and from a young age developed speech, BSL, and lip-reading skills to communicate with the Deaf community and the rest of the hearing world.
She said: "I've always been passionate about performing arts, but when I was younger opportunities for young Deaf People in that arena were few and far between."
In 2018, Charlotte made history by becoming the first Deaf BSL actor to take on the role of Cassandra in Troilus and Cressida. She then became the first Deaf associate artist for the RSC – a title that Charlotte was fiercely proud to receive. She said:
"For me, it's all about trying to change the narrative in the industry."
Read more about Charlotte's story.
Register on CONNECTED or update your details with the alumni team to hear more from your alumni community.