CONNECTED speaks to Reading graduate, Katie Lawman, about all things charities – from her time as a student ambassador, to puppies in the office at Battersea Dogs and Cats Home.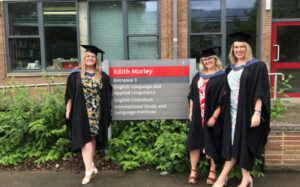 Katie studied English Literature at Reading, choosing to study here after visiting the campus during an Open Day. Katie remembered: "I started at the University in September of 2017. I loved it initially because of the campus and how green it was. You know it's the right university for you when it just feels right and you can see yourself studying there for the next three years."

After working in charity shops as a part-time job, to being a student ambassador at Reading, to working as a Project Manager in the Queen's Green Canopy event, Katie now works for Battersea Dogs and Cats Home where she is fulfilled helping society's vulnerable dogs and cats. We spoke to Katie about what inspired her to work with Battersea and her love of the charity sector.
Taking opportunities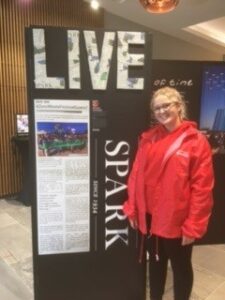 During Katie's first year at Reading she was lucky enough to be granted a place in the Vice-Chancellor's China Scholarship Scheme which enabled her and four other students to study at Peking University, Beijing for just over a month. During her time studying Chinese poetry and Mandarin, Katie had a variety of experiences from eating scorpions at food markets to walking the Great Wall of China – twice.
Katie said: "We stayed in the university accommodation and arrived in China not speaking the language at all; so I had to rely on making friends with other people to do even the most basic things, like ordering food."
"I met people from all across the world, which was amazing and some whom I'm still friends with now. I even got a first in Chinese poetry at the end of the month which I couldn't believe.
"It was the experience of a lifetime, and I am incredibly thankful to have been awarded the opportunity."
It was a natural progression for Katie to go on to represent Reading as a student ambassador. Katie explained: "Being at Reading and the opportunities that came up, like going to China, definitely pushed me out of my comfort zone. However talking about Reading and my course was something I just ended up doing while in China, so to go on to do that as a student ambassador for Reading was natural."
Katie not only loved all that the ambassador role entailed but she also found it great for her career development. Katie said: "I had the opportunity to meet people, to give speeches and lead tours of large groups which definitely helped me in my career journey going forwards. Plus it was a great job and I got to share some of my experiences on campus."
A rewarding career
It was from here that Katie turned her love of building relationships and talking to people into a career. Katie joined the City of London and as Project Manager worked on events such as the Queen's Green Canopy which saw millions of trees planted in celebration of the Queen's Jubilee around the UK.
Katie explained: "My time at Reading as an ambassador enabled me to discover my enthusiasm for sharing my passions with a range of different people. It was here that I realised my future career relied entirely on my communication skills.
"With The Queen's Green Canopy there was a lot of conversations and relationship building. I was working with the Royal representatives and various companies as well as my own organisation which employed thousands of people."
Katie had a natural passion for working with people but realised her heart lay in helping others too. She said: "Ultimately I wanted to pursue a career that was going to be rewarding for me but also helping the vulnerable in our society – including cats and dogs. Now my job is still inherently having relationships with people and rapport building but while knowing I'm making a difference."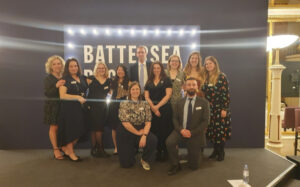 Katie is now a Corporate Partnerships Officer at Battersea, which involves working with large organisations who want to support Battersea and their charitable efforts. Katie explained: "We get a lot of large companies come in looking for ways to support Battersea through the sales of their products. My job is to formulise that relationship, sign the contracts, deal with the finance and support them through their campaign journey."
While Katie loves her role at Battersea, it is the personal reward of working within a charity that she loves the most.
Close to home
Retrospectively Katie would say she was always "steered towards charities" – volunteering in Oxfam stores prior to her university days and undertaking work experience as a press officer for Barnardo's. So it was no surprise that after her partner adopted a dog from Battersea, and Katie having rescued cats in the past, that the charity felt "closer to home".
Since then Katie has found her home in the charity sector and hopes to continue her career progression there for as long as possible. She said: "I want to be in the charity sector for as long as I can. I have been incredibly fortunate in my career and life so being able to give something back is important to me. I hope to be able to progress and help other – maybe smaller – charities progress too; I'm excited to see where the field takes me."
Find out more about the work of Battersea Dogs and Cats Home or email our Alumni Volunteering Officer, Rachel Dean, if you are interested in volunteering with the University of Reading.