Carl Asamoah studied a Business Economics master's at Reading, and while here he also participated in the University of Reading Thrive Mentoring Scheme. He tells CONNECTED how impactful the scheme was on his life.
The Thrive Mentoring Scheme is designed to help University of Reading students looking for a career mentor to help them define their career path. The scheme provides support, collaboration, and guidance with a successful professional, with mentors supporting students as they explore their thoughts and aspirations.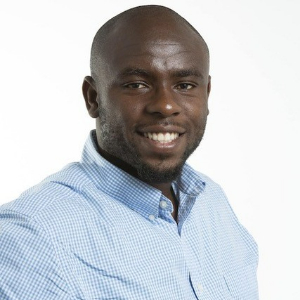 Carl signed up to Thrive during his one-year master's degree at Reading in 2019, and is now the founder of Siscode Ghana – a social enterprise designed to make IT and coding accessible to young girls in Ghana. He is also studying a PhD at Brunel University.
Carl said: "I wanted to share an experience that has left an indelible mark on my life and reaffirmed the incredible impact that the Thrive Mentoring programme has on individuals like me."
Carl's Thrive experience
Carl joined the Thrive scheme to get advice on starting up his not-for-profit organisation, Siscode Ghana.
He said: "My mentor provided great advice, wisdom and encouragement when it came to starting up  my not-for-profit organisation.
"He assisted me with thinking about ways I could raise funds for the organisation and helped me develop the Hire For Impact initiative where I connect African university students to small businesses in the UK, to offer a helping hand for a fee which then supports the work of Siscode."
Originally Carl only knew his mentor in the digital realm, through countless invaluable emails, video calls and shared documents. However he was thrilled to recently get the opportunity to meet his mentor face-to-face.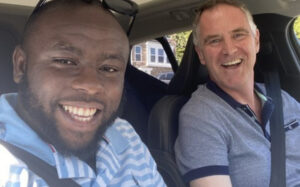 He said: "I had been eagerly anticipating meeting my mentor in person for a long time, and it exceeded all my expectations. Meeting my mentor, who has been a guiding light in my life for years, was a profoundly moving experience.

"Our reunion was filled with shared stories, laughter, and heartfelt conversations. It was a testament to the power of mentorship and the strength of the bonds that can be formed through programmes like Thrive. Meeting my mentor in person helped me realise the personal growth and development I've undergone thanks to my mentor's wisdom and support."
Carl's mentor said of his experience mentoring Carl: "I've had the pleasure of mentoring Carl since 2019, when we met through the Thrive programme. Immediately, I experienced Carl's potential and have since helped him develop his entrepreneurial pursuits. Since then, Carl has demonstrated an unparalleled commitment to creating positive change in his community.
"The not-for-profit organisation he founded has been instrumental in providing digital literacy training to underprivileged youth in Ghana, particularly females, empowering them with the skills and knowledge they need to thrive in the digital age."
Saying thank you
Carl's experience with Thrive has been so positive that he wants to thank the team for making this partnership happen.

He said: "I want to extend my deepest gratitude to the entire Thrive Mentoring team for making this programme possible. Your dedication to fostering meaningful connections between mentors and mentees is changing lives, and I am living proof of that. Your commitment to empowering individuals to thrive, both personally and professionally, is truly commendable.

"As I reflect on this milestone in my journey, I'm reminded of the quote by Sir Isaac Newton: 'If I have seen further, it is by standing on the shoulders of giants.' My mentor is one of those giants, and Thrive Mentoring has provided me with the platform to stand upon their shoulders and see further than I ever could have on my own.
"I encourage all mentees in the programme to continue embracing the wisdom, guidance, and support of your mentors. And to the mentors, your dedication to nurturing the potential in others is a gift that keeps on giving.
"Once again, thank you, Thrive Mentoring team, for making this transformative experience possible."

Find out more about The Thrive Mentoring Scheme.
You can find out more about the various volunteering opportunities at the University of Reading by registering your interest.