Alison Nader and Ali Nicholson, Lecturers, International Study and Language Institute                                                                                            a.m.nader@reading.ac.uk     a.v.nicholson@reading.ac.uk                                                                                                                                                    Year of activity 2017/18
Overview
For the past 2 years UoR students taking IWLP French 20 credit optional modules have had the opportunity to undertake 2 weeks of intensive language study in France at CUEF, Université Grenoble Alpes.
Students arrange their own travel and accommodation with light touch support from IWLP staff.
They now have the possibility to take a credit module based on their experience, in the academic year following their return from France.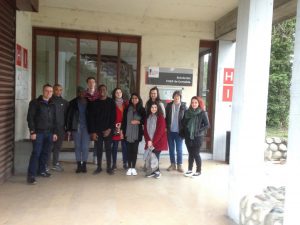 IWLP Students arriving at the CUEF, Université Grenoble Alpes, France
Objectives
To give students the opportunity to study and live independently in France for a short period of time.
To improve language skills, in particular speaking and listening in real world situations.
To offer the opportunity to use their real world experience on a credit bearing IWLP language module.
Context
In SSLC meetings and end of year module evaluations, students had been asking for the opportunity to spend a short period of time in France.
The placement needed to fit around the students' core studies.
Recognition by UUki that outward mobility experiences are increasingly important for graduate attributes.
University of Reading's ambitious outward mobility targets.
Implementation
Initially this experience was conceived of as a trip abroad, responding to student requests for recommendations of where they could go to take a short intensive language course.  Two members of IWLP staff researched short language courses offered by French universities.  Having identified CUEF, a part of l'Université Grenoble Alpes, as having a suitable offering, IWLP staff visited the Centre, met the French staff and observed teaching on the courses.
Before leaving for France, students are supported with briefing sessions given by IWLP French staff but have to organise travel, accommodation and where necessary visas, themselves.
The classes take place outside UoR term time and to date students have either chosen to go for two weeks during the Easter holidays or in early September.
In the first year 2016-17, 10 students took up the opportunity and this year the expectation is that numbers will increase, 10 have just returned and more will be travelling out in September.  Students have to pay the fees, travel and accommodation.  So far each cohort has received a small bursary from UoR but this is not guaranteed.
In 2017-18 students were offered the opportunity to select a credit bearing placement module on their return.  A small number of students opted to take the module and the improvement in their ability to undertake an oral presentation in French was truly remarkable.
Impact
From the student perspective, their competence in speaking and listening in French demonstrably improved.  The improvement for those who took the credit bearing module was measurable from comparative assessment results before and after the placement.
Students also acquired transferable skills and increased their independence, confidence and motivation.  In feedback one of the students commented: "going by yourself from a country to another implies responsibility and independence" and another mentioned how the experience increased her general confidence.
These gains also came from practising in a real world situation and, for those who had not visited France before, a greater cultural understanding of the country where the language is spoken.  Increased linguistic confidence and cultural awareness was cited in feedback by a student who commented on his motivation for going on the placement, to improve his French as well as to "really understand what it takes to learn French by understanding the culture".
The mobility opportunity also contributes to the UoR Global engagement strategy and outward mobility targets.
Reflections
Quite apart from an increase in students' linguistic competence, they gain in independence and heighten their intercultural awareness.  The cohesive group that went to France this spring are themselves from eight different countries.  This time, as a "bonus" they experienced at first hand strikes and blockades of university buildings: coping with all of this strengthened their group cohesion.
In general, on their return, students are enthusiastic ambassadors for learning a language.
Short-term mobility opportunities can attract students who would not be able to go abroad for longer periods, though Home students have said that even a small study abroad bursary or help with the travel costs would encourage more of them to take up this opportunity.
Follow up
Scaling up the offering may be challenging from the organisation and staffing point of view, however it is hoped to extend the opportunity to other languages in the near future.
As the IWLP modules are offered to students from Schools across the university, the mobility placements can contribute to the internationalisation of students university-wide.
Ensuring inclusion, finding sustainable ways of financially supporting students and resourcing staffing are top priorities for future development.
Links
https://www.britishcouncil.org/sites/default/files/iu_bc_outwd_mblty_student_perception_sept_15.pdf 
http://www.universitiesuk.ac.uk/policy-and-analysis/reports/Documents/International/UK-Strategy-for-outward-student-mobility-2017-2020.pdf
http://www.reading.ac.uk/web/files/cqsd/University_of_Reading_Curriculum_Framework_for_web_with_infographic.pdf
Placement Modules
https://www.reading.ac.uk/modules/document.aspx?modP=LA1FP3&modYR=1819
https://www.reading.ac.uk/modules/document.aspx?modP=LA1FP4&modYR=1819
https://www.reading.ac.uk/modules/document.aspx?modP=LA1FP5&modYR=1819