Dr Allán Laville, a.laville@reading.ac.uk, (Dean for D&I and Lecturer in Clinical Psychology) and Charlotte Field (Research Assistant and student on MSci Applied Psychology)
Overview
To improve access to psychoeducational materials by addressing the diverse needs of those accessing Improving Access to Psychological Therapy (IAPT) services. We worked on creating materials that could be used to describe psychological disorders such as Depression and Generalized Anxiety Disorder (GAD) to those who have learning disabilities. Here we reflect upon the benefits of completing this project via a student- staff partnership as well as the potential benefits of using within IAPT.
Objectives
This project was funded by SPCLS Teaching & Learning Enhancement Fund and was to create psychoeducational materials suitable for those with learning disabilities that depict Depression, GAD and Panic Disorder.
To effectively utilise student and staff feedback in the creation of these materials.
Context
The above project was undertaken as within IAPT, Psychological Wellbeing Practitioners (PWPs) typically use materials that are text heavy when explaining psychological disorders. This can create access barriers to those with learning disabilities, arguably within service and at a university teaching level.
The aim of the project was to create visual representations of how the person may be feeling depending on the psychological disorder.
Implementation
Allán Laville (Dean for Diversity and Inclusion) designed the psychoeducational materials for learning disabilities concept and then approached Charlotte Field to see whether she wanted to take part in the development of these materials. It was important to include Charlotte here as she is training as a PWP and has also studied Art.
Charlotte Field's experience
The preliminary stage in the project involved doing rough sketches of how Depression, GAD and Panic would be represented. These were discussed and evaluated within an initial focus group with other students on the MSci Applied Psychology Cohort 5. The subsequent reflection and review of the feedback received enabled me to produce drawings that were more interactive as well as providing a more literal and figurative version of each disorder to help make things clearer. In doing so, making the drawings more accessible and appropriate for those with learning disabilities. I had the opportunity to review feedback on the completed drawings for a second time before the drawings were submitted.
Impact
Charlotte shares her view of the impact of completing this activity:
The materials here have been developed to add to the resources which could improve access for those with learning disabilities within Improving Access to Psychological Therapies (IAPT). As the rest of the MSci cohort and I are training as PWPs this was especially relevant to develop our clinical skills. These materials will be used in the training of future MSci cohorts – both within in-class role-plays and summative role-play assessments.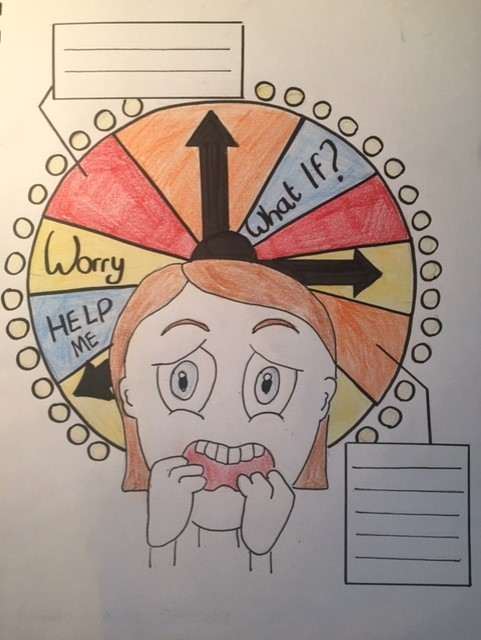 Reflections
Allán Laville reflections:
The student-staff partnership was key to the success of the project as we needed to ensure that the student voice was at the forefront. This was achieved in the work Charlotte completed herself as well as within the focus group and subsequent feedback on the psychoeducational materials over email. Based on this positive experience, we are keen to continue this approach to innovative T&L practices.
Charlotte Field's reflections:
The student-staff partnership is of great importance as it builds collaboration and crucial links between students and staff. This is particularly important with projects such as this as it combines the knowledge and expertise from experienced staff members with the student's current experience working within these services.
Follow up
In future, we will aim to develop similar psychoeducational materials for treatment interventions within Low Intensity Cognitive Behavioural Therapy. For example, materials for Behavioural Activation, which aims to increase individual's routine, necessary and pleasurable activities to improve one's mood.  This intervention would lend itself well to pictorial representations.