Technologies for different teaching contexts
The following chart illustrates a variety of available technologies for different teaching and learning contexts. Depending on the technology, support may be provided by CQSD TEL or DTS, or other professional services such as the library.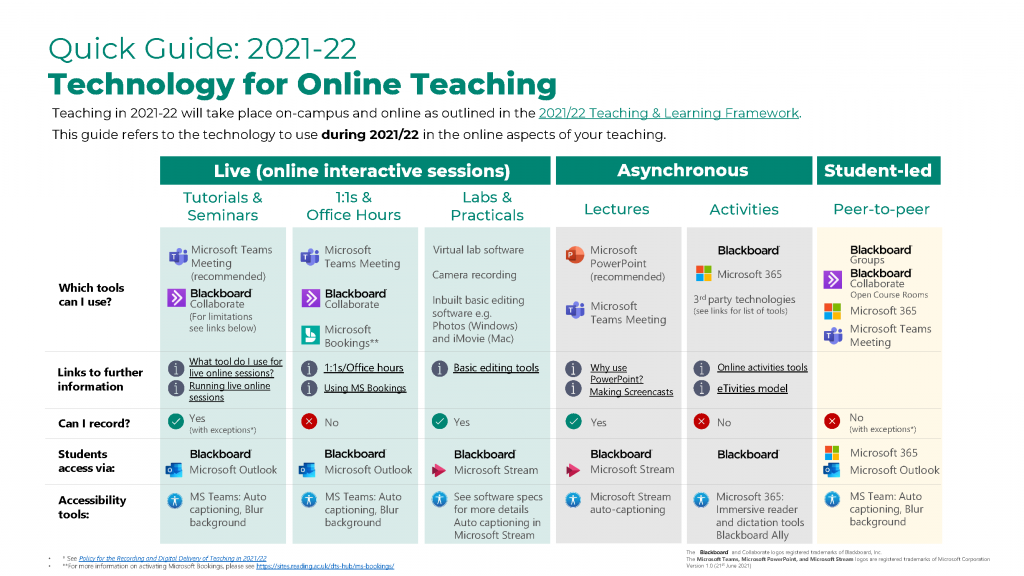 Download this visual in another format:
Quick Guide 2021-22 Technology for Online Teaching v1.0 (PDF, with images)
Quick Guide 2021-22 Technology for Online Teaching v1.0 (PowerPoint with images)
Text Only Quick Guide 2021-22 Technology for Online Teaching v1.0 (PowerPoint text only)
Links to University support
Virtual Learning Environment – 
Blackboard 
Use Blackboard as the single point of access for students to find essential communications, learning materials, activities and links out to other resources or software.
Assessment – Blackboard Assignment and Turnitin
Live Online Sessions – 
Microsoft Teams Meeting and Blackboard Collaborate
Screencasts – 
Microsoft PowerPoint (recommended)
Video hosting/sharing – YuJa
Use YuJa to store, organise and play videos you've made for students.
Online Reading List – Talis Aspire
Learning Activities
Booking tutorials – Microsoft Bookings
Produce learning materials – Microsoft Office 365
Use Microsoft 365 tools to produce accessible and well-formatted documents and learning materials.
Use Microsoft Forms

 

to make online surveys and quizzes. These can be embedded or shared within Blackboard.
Other university tools & resources
Library e-resources including encyclopaedias, dictionaries maps, images, sounds and video collections.
LinkedIn learning. Comprehensive range of software, creative and business video tutorials.
Box of Broadcasts (BoB). Record or find free-to-air UK TV programmes

. 

Only available to watch in the UK.
Curriculum software – AppsAnywhere
Gain access to dedicated software applications for teaching through AppsAnywhere.
Available on PC Windows and MAC, both on and off campus.
Learning materials – 
Open Educational Resources (OERs)
Using external technologies
Third party technologies can be used for:
Content – Directing students to content on third party technology is acceptable. for example directing students to view a website or a YouTube clip; however it is advisable, where possible, to integrate content into Blackboard (for example – How to embed videos and other media in Blackboard).
Formative learning activities – See the Designing Learning Activities toolkit for a list of approved technologies that are suitable for formative learning activities. Note that use of third party technology can be encouraged for formative assessment, but if personal data will be collected you must seek advice from Information Management and Policy Services (IMPS) (Email imps@reading.ac.uk ), for example, asking students to input personal details or link their personal accounts with third party technology.
Third party technologies cannot be used for:
Formal programme and module communication: All course formal communication from staff to students must go through either UoR email addresses and/or Blackboard. Where pedagogically appropriate, third-party tools may be integrated into Blackboard to display information.
Video conferencing with students: Only Collaborate Ultra & Microsoft Teams can be used for video conferencing with students unless a specific use case is agreed between your SDTL and School DTS Business Partner.
Summative Assessment: See EMA guidance for advice on setting up online submission, marking and feedback.
See: Guidance for using third-party technologies in teaching and learning for more information about available support and how to make a request for a third-party tool or service.