technologies for different teaching contexts
Teaching Online in the Autumn Term: Quick Guide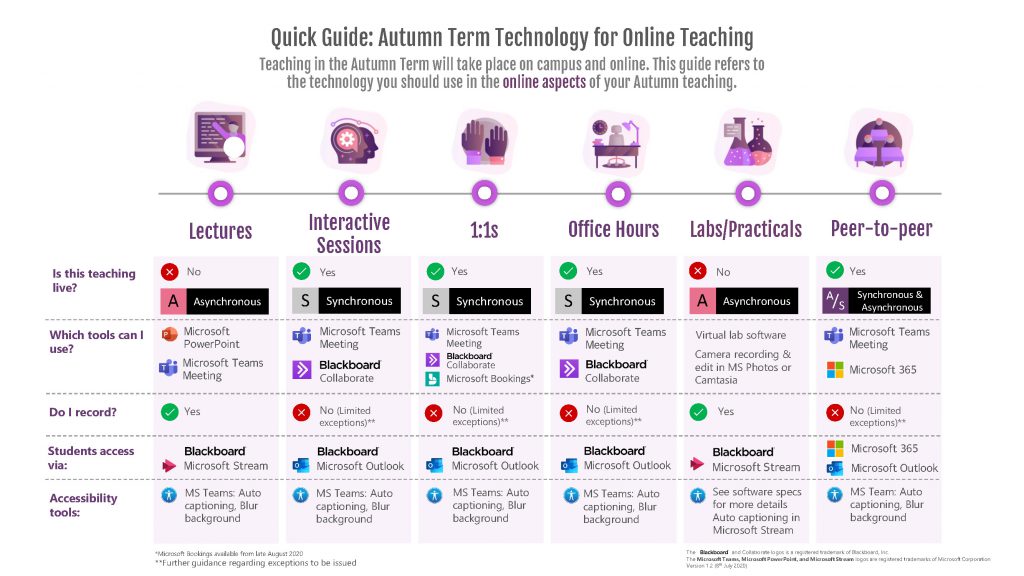 Version 1.2 (Last updated on 08.07.20)
This visual is also available in the following formats:
 UNIVERSITY SUPPORTED TECHNOLOGIES
Virtual Learning Environment – 
Blackboard 
Use Blackboard as the single point of access for students to find essential communications, learning materials, activities and links out to other resources or software.
Webinars – 
Blackboard Collaborate & 
Microsoft Teams Meeting
Screencasts – 
Microsoft PowerPoint & Teams Meeting
Video hosting – Microsoft Stream
Online Reading List – Talis Aspire
Booking tutorials – Microsoft Bookings
Produce learning materials – Microsoft Office 365
Other tools & resources
Library e-resources including encyclopaedias, dictionaries maps, images, sounds and video collections.
LinkedIn learning. Comprehensive range of software, creative and business video tutorials.
Box of Broadcasts (BoB). Record or find free-to-air UK TV programmes

. 

Only available to watch in the UK.
External resources
Learning materials – 
Open Educational Resources (OERs)