Technologies for different teaching contexts
Teaching Online in 2021/22: Quick Guide (click to enlarge)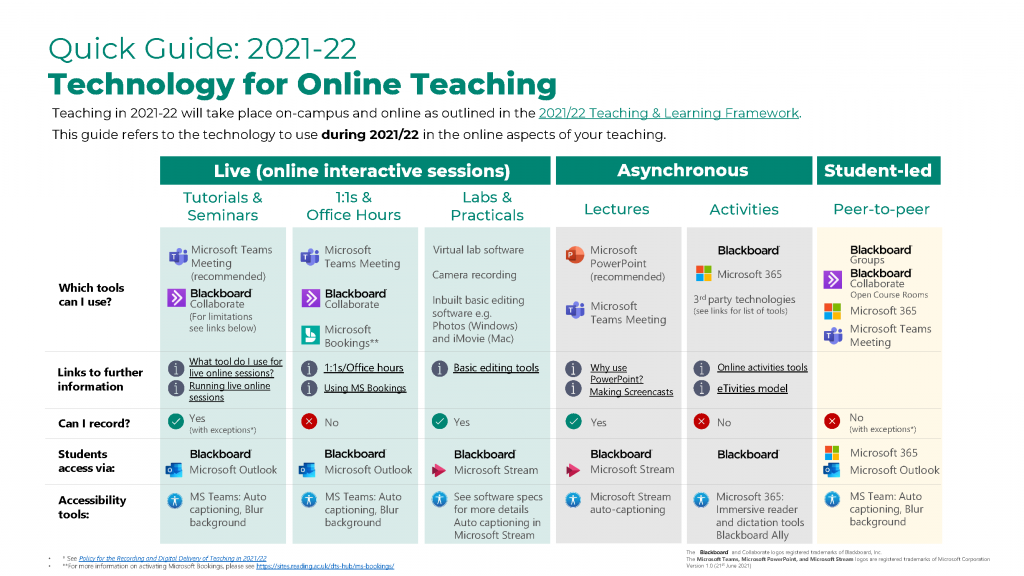 Download this visual in another format:
Quick Guide 2021-22 Technology for Online Teaching v1.0 (PDF, with images)
Quick Guide 2021-22 Technology for Online Teaching v1.0 (PowerPoint with images)
Text Only Quick Guide 2021-22 Technology for Online Teaching v1.0 (PowerPoint text only)
 University suppported technologies
Virtual Learning Environment – 
Blackboard 
Use Blackboard as the single point of access for students to find essential communications, learning materials, activities and links out to other resources or software.
Live Online Sessions – 
Microsoft Teams Meeting
How to set up a Microsoft Teams Meeting for live interactive seminars and tutorials with your students.
Practical Help Guides:
Screencasts – 
Microsoft PowerPoint (recommended) or Microsoft Teams Meeting
Video hosting/sharing – Microsoft Stream
Online Reading List – Talis Aspire
Learning Activities
Booking tutorials – Microsoft Bookings
Produce learning materials – Microsoft Office 365
Use Microsoft 365 tools to produce accessible and well-formatted documents and learning materials.
Use Microsoft Forms

 

to make online surveys and quizzes. These can be embedded or shared within Blackboard.
Other tools & resources
Library e-resources including encyclopaedias, dictionaries maps, images, sounds and video collections.
LinkedIn learning. Comprehensive range of software, creative and business video tutorials.
Box of Broadcasts (BoB). Record or find free-to-air UK TV programmes

. 

Only available to watch in the UK.
Curriculum software – AppsAnywhere
Gain access to dedicated software applications for teaching through AppsAnywhere.
Available on PC Windows and MAC, both on and off campus.
List of software available.
External resources
Learning materials – 
Open Educational Resources (OERs)
Third party tools and services
If you are considering use of a 'free/freemium' or 'paid-for' third party tool or service, please contact your School DTS business partner prior to deployment and/or purchase. You should enquire if the technology has been approved for use, explore existing university alternatives and ascertain what technical support is available, if any. See also:
TEL Support site lists some 'third party' tools/services, these support pages detail tool/service availability, technical support and recommendations for deployment. If your tool is not listed, TEL may be able to provide information (please contact via DTS@reading.ac.uk).