Imagine having the opportunity to bring a business idea to life which has the potential to change the world for the better.
That is exactly what the University of Reading, in partnership with Paul Lindley OBE, and with the support of a host of business sponsors and volunteers, was able to offer via the 'just IMAGINE if…' competition earlier this year.
Paul Lindley – entrepreneur, founder of Ella's Kitchen, and a Senior Ambassador for the University's IMAGINE fundraising and volunteering campaign – asked for our help to bring his idea for the 'just IMAGINE if…' competition to life. It proved to be a fantastic collaborative project that the University was delighted to support.
Sustainable business ideas from across the globe
Launched in Autumn 2018, the competition was open to entrants anywhere in the world who had a business idea which addressed at least one of the United Nation's 17 Sustainable Development Goals. The competition prize was up to £75,000 of research and support to move the winner's idea forwards, enabled by sponsoring organisations and to be delivered by the University of Reading and Henley Business School.
Entries were received from across the globe, showcasing an array of inspiring and innovative business ideas. Ten shortlisted finalists were invited to attend the competition's final event on 28 February 2019, hosted by the University of Reading, at which they would all pitch their ideas to an invited audience who would vote to choose the winner.
In advance of the big day, all the finalists were provided with mentoring support from a number of high-profile business people and entrepreneurs, including BBC Dragons' Den Piers Linney, and Tristram Stuart, founder of Toast Ale and campaigner on food waste.
The winning pitch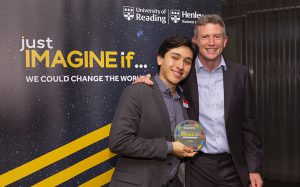 Following a hard-fought final, the winner of this inaugural 'just IMAGINE if…' competition was Alexander Wankel, whose company, Kai Pacha Foods, has developed a socially and environmentally responsible brand of plant-based milks from climate-smart Andean grains.
Kai Pacha Foods works directly with organised conservationist farmer groups in Peru. The company aims to encourage the sustainable use of terrestrial ecosystems, to conserve biodiversity and prevent land degradation; while providing a better income to impoverished rural communities.
Alexander's winning pitch can be viewed here. His winner's prize will allow him to obtain the research expertise it needs from the University to enable his company to scale to international markets. It will also provide vital research into quinoa diversity, allowing the organisation to focus on conservation of particularly climate resilient native varieties. The University is currently working with Alex to develop the scope of his research prize to best meet his needs.
You can see highlights from the 'just IMAGINE if…' competition final here.
'just IMAGINE if…' 2020
The success of 'just IMAGINE if…' in this, its inaugural year, has provided a firm foundation for Paul Lindley to take the competition forwards as an annual event. Next year, 'just IMAGINE if…' 2020 will be hosted by Durham University. We wish the competition, and its future entrants and supporters, every success in the years to come.
Meanwhile, here at Reading, we look forward to following Alexander's progress and seeing his business develop as a consequence of his just IMAGINE if… research prize.