Reading graduate and donor, Nicola Crowell, shares her motivation behind supporting students at Reading through the financial difficulties thrown at them by the pandemic.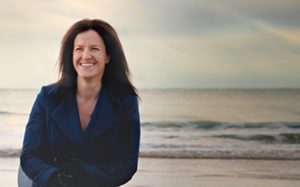 Coming from, in her own words "an incredibly sheltered upbringing" in Jersey, Nicola was eager to come to Reading and see more of the world. Studying International Management and Business Administration with French, Nicola recalls having a fantastic time at Reading.
She said: "I met amazing people from so many different backgrounds, thoroughly enjoyed my course and the opportunities I was offered, plus there were nightclubs which were far cooler than anything we had at home. We even had a McDonalds and a Burger King in the town – this was terribly exciting as we didn't have any in Jersey back then!"
After graduating, Nicola embarked on a gap year travelling the length of Africa in a Bedford lorry, before returning to Jersey and starting a successful career in financial regulation. Now running her own company, Cyan Regulatory Services Limited, helping businesses comply with financial legislation and regulation, Nicola feels it's time to give back to help current students have the best experience possible during this challenging period. 
Substantial challenges
Nicola tells CONNECTED why she chose to donate to the Student Hardship Appeal and help students facing financial challenges as a result of the pandemic.
She said: "In Jersey we'd been out of lockdown for a while before the autumn term started, but I'd been watching the national news coverage of what the situation was like in the UK and this got me thinking.
"I had a wonderful time at Reading, but of course there were times when I missed my family and friends from home. Although Jersey was too far for me to pop back, I still had the option – something which today's students don't have while in lockdown. I can empathise with the emotional challenges presented by such separation – my grandmother died from the virus a few months ago when the island was still in lockdown and I couldn't be with her or the rest of my family.
"Students at university now are still going through all the challenges of ordinary life, but in a very abnormal situation and without the same level of emotional support available to them due to the COVID-19 restrictions.
"As well as the emotional impact, some students are also suffering from the financial pressure caused by the pandemic. I hadn't realised it before, but weekend and summer jobs that some students rely on vanished overnight, and the financial difficulties some are now facing must be pretty eye-watering.
"Students don't expect to be flush with cash – you expect to have pretty dodgy accommodation and to shop on a very small food budget – that all comes with being a student.
"But you do expect to be able to feed yourself and afford the basic essentials. When I was a student I worked every summer and I had my parents as back-up if I needed them, but that's not necessarily the case for everyone, particularly now.
"Students seem to be facing more challenges than ever before, and must be having a very different experience of university life to the one that my friends and I enjoyed.
"I hope that my donation might relieve the financial pressure on some students, giving them one less worry during these difficult times and hopefully helping their emotional and mental wellbeing."
Every little helps
Nicola hopes her donation to the appeal will ease a couple of students' worries, at least for a while.
She said: "I hope that every little helps. If my donation means that a couple of students can receive help with their rent, or their medical needs, or with buying food, and ease their worries for a little while then I'll be happy. I benefitted hugely from my time at Reading and it feels right to give something back now I'm able to.
"It would be heart-breaking for anyone to have to drop out of university simply because they couldn't afford to stay. In my view, that is not a good reason to end your education, but unfortunately some people don't have a choice – and that's why I'm supporting this appeal."
When asked whether she had any advice for Reading's current students, Nicola laughed and said she wasn't sufficiently qualified to offer advice. She did, however, say that she'd enjoyed the social life, clubs and activities at Reading, as well as the study and suggested:
"Just make the most of every opportunity you're offered. Grab it with both hands and give it a go."
Supporting students
Nicola is right – every little does help. A gift of any size can make a huge difference to students right now; being able to pay their rent, or buy food, can be life-changing for students who might otherwise be forced to consider dropping out of university.
The University would like to extend its gratitude to Nicola, and to everyone who has supported the appeal so far. You are making a huge difference to students' lives.
The Student Support Fund provides emergency grants to students in unexpected financial crisis; when they have run out of other options and dropping out of university is a very real possibility for them.
Find out more about our Student Hardship Appeal, or how you can get involved, through the IMAGINE campaign.