Since graduating from the University of Reading with a degree in agricultural economics four decades ago, Chris Helm appears to have been on a predetermined path towards helping the fight against the COVID-19 pandemic.
It is difficult to dismiss the notion of destiny when contemplating how Chris has found himself at the heart of efforts to curb and control COVID-19's global march.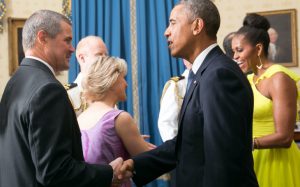 Originally hailing from South Africa, Chris worked and lived in Wuhan long before the words "social distancing" and "lockdown" entered everyday lexicon. He also lived in Hong Kong during the SARS (Severe Acute Respiratory Syndrome) outbreak in 2003, and knows only too well the intricacies – and potential consequences – of interactions between humans and animals from his studies at Reading and his subsequent business career.
Now based in America, Chris is currently the Executive Vice President of Global Business Development for Longhorn Vaccines and Diagnostics LLC – a company that was founded in preparation for a global pandemic. There is, therefore, an undeniable inevitability about Chris now playing a pivotal role in the international response to coronavirus.
Inactivating COVID-19 samples
When events began to unfold in Asia in late 2019, Chris recalled how he quickly became alert to the potential threat: "I was reading the South China Morning Post website at the end of December and there was an article describing events in Wuhan that immediately grabbed my attention.
"We started talking internally and decided that we could upscale from making tens of thousands of test tubes a week to making millions if we outsourced our production in the US. So we went out and did it."
While Chris' early inkling helped Longhorn to quickly ramp up production to service unprecedented demand, he was quick to impress that preparation and planning – rather than a twist of fate – was behind the firm's ability to do so. Chris explained:
"This company was founded 15 years ago with the intent of helping to diagnose and treat pandemic influenza. We were ready to react to such an event as although we were focusing on the 'wrong' virus, we had the right technology in our tubes."
Longhorn's PrimeStore® Molecular Transport Medium (MTM) is an innovative tool that can be used to collect, inactivate and safely transport samples to either point-of-care testing devices or to laboratories for processing, without the need for a biological safety cabinet or testing under containment. This tool has enabled countries to improve the efficacy of the COVID-19 test and trace system.
Chris explained: "The liquid in the tubes inactivates all-known pathogens so that you can collect and transport a sample from anywhere in the world, to a laboratory anywhere else in the world without the expense of the cold chain, knowing there is no risk of something nasty escaping and spreading disease."
By reducing the time between collection and results the tubes have helped improve the track and trace system, therefore increasing widespread testing. Longhorn has distributed more than 50 million tubes to date to test providers in North and South America, Europe, Africa, Asia and Australia. The Walgreens Boots Alliance is also utilizing the PrimeStore® MTM technology in both the US and UK, with the Boots pharmacy chain using the technology in their MyHealthChecked At-home COVID-19 PCR Swab Test Kit as well as in their Fit to Fly certificate programme.
Chris said he is "chuffed" to see their technology being used around the world to help fight the pandemic.
A circuitous CV
Reinforcing the sense of serendipity about his current role for a company seemingly far removed from his agricultural roots, Chris told CONNECTED: "Going from agricultural sales and management to bio-tech was a bit of a leap, but I have never been afraid to make changes in my career.
"I already had a solid grounding in animal health and how viruses and bacteria can sicken and kill animals, birds and fish, and I have always worked with scientists."
Chris' work requires him to call upon the expertise he first honed while studying for his degree, a field he believes has become increasingly relevant. Prior to the pandemic, Chris and his colleagues were focused on the global fight against the old but curable disease, tuberculosis (TB), where they had proven how a simple oral swab could be used to find TB DNA in the mouth. Research partners in South Africa have proven the technology can be used to test for M.Bovis in different wild animals and are studying the spread of human TB into wild and farmed animals.
He said: "This demonstrates that the importance of understanding the impact of interaction between man and beast is more vital than ever. Our technologies are being proven and used in National Veterinary Diagnostic Laboratories to help test high consequence pathogens in our global food chain.
"I once thought I had said goodbye to agriculture but I haven't; my life seems to be a circle and I have gladly returned to it."
Throughout his circuitous CV – which has included spells running an agricultural consultancy in Asia; holding concurrent positions as Senior Advisor to the Vice President of Research, and Interim Director, Office of Research Services, at the University of Hawaii; and visiting US National Laboratories to introduce new technology in nuclear decontamination and clean-up – Chris has never forgotten his Reading roots.
He reflected: "The University grounded me and gave me a lot of opportunities. I enjoyed my time there and cherish the friendships and relationships I developed, and the education I received both inside and outside the classroom and on the sports fields.
"I learnt the importance of building bonds with people and networking – something I share with students whenever I have the opportunity – and more than 40 years later, those networks are still very much alive."
In addition to interactions with fellow Reading graduate, Mark Stevenson, via LinkedIn, Chris continues to talk regularly with his close friends from Windsor Hall and took a stroll down memory lane during a visit to Reading to celebrate his 60th birthday with them in 2019. He said fondly: "Reading had a major impact on who I am and it will always be a part of me and my DNA."
Continuing the fight
Chris expressed his pride in Longhorn being part of society's solution to understanding and helping to control the spread of COVID-19, as well as the company's recent donation of one million tubes to the International Organization for Migration to help test displaced peoples around the world. However, he believes it is too early to consider the fight against the pandemic complete.
He said: "We hope there is an end in sight through vaccines, but it is still going to take some time to get there and vaccinate everybody to achieve global herd immunity. I also suspect coronavirus is going to become like influenza and there will be mutations every year, therefore requiring vaccinations every year. There are still so many questions to be answered and there will remain a need for testing."
Chris also highlighted that a return to normal for his business will not spell an end to dealing with disease. Before COVID-19, Chris and his colleagues had just successfully launched an oral screening kit to find TB DNA in the oral cavity, and also a TB sequencing kit to help treat patients with the right drugs in late 2019.
Chris said:
"We're extremely proud to have done our part in the global fight against COVID-19, but we're also looking forward to refocusing on these other – no-less-pressing – global issues with our global research partners as soon as we can."
Find out about the University of Reading's research into the effectiveness of COVID-19 antibody testing.