CONNECTED is proud to share how our community is helping to tackle major global issues, by taking a closer look at two of the United Nations Sustainable Development Goals (SDGs).
As part of the University of Reading's #PlanetPartners campaign, CONNECTED shares some highlights of the work that our alumni and the Reading community are undertaking to help address two of the SDGs – Zero Hunger and Affordable and Clean Energy.
Zero Hunger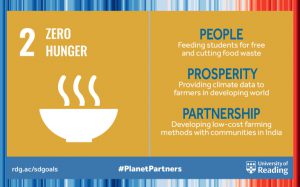 The second SDG is Zero Hunger, which aims to support people who cannot access adequate nutritious food, by promoting sustainable agriculture in difficult environmental conditions and food security for all.
CONNECTED shares how the University is helping to address Zero Hunger by revolutionising the way it feeds its students, focusing on nutrition and sustainability, and how Reading graduate, Dr Lawrence Haddad, is on a lifelong mission to reduce hunger and malnutrition around the world.
Reading recently became the first university in Europe to be admitted to the Menus of Change Universities Research Collaborative (MCURC), an initiative committed to making meals served on campuses around the world healthier and more environmentally friendly.
The University will continue to implement its sustainable initiatives and will now, as part of MCURC, take an active role to seek new and innovative ways to encourage people to choose healthier, more sustainable options, such as replacing red meat or using reusable drink cups.
Matt Tebbit, Reading graduate and Head of Casual Dining and Bars at Reading, said: "Joining Menus of Change strengthens our commitment to providing sustainable food and drink on our campuses.
"Focusing on quality not quantity, creating delicious, plant-forward meals, and harnessing renewable energy are all ways we can drive down the University's carbon footprint, as well as make our students and staff healthier.
"This all builds on the award-winning sustainability work we have already been doing on campus, which uses the expert knowledge of our own researchers to improve our menus, and has turned our dining rooms into live laboratories where we can study eating behaviours, teach sustainable practices, and come up with brand-new ideas."
Reading graduate, Dr Lawrence Haddad, is also dedicated to achieving Zero Hunger. As Executive Director of the non-profit Global Alliance for Improved Nutrition (GAIN), he remains steadfast in the beliefs forged during his studies at Reading that food is a basic human right. His work sees him walking global corridors of power, influencing politicians, captains of industry, and other decision makers to pay more attention to hunger and malnutrition reduction.
In 2018, Dr Haddad was presented with the World Food Prize for helping to bring maternal and child nutrition to the top of the global agenda. The equivalent of a Nobel award in the field, it recognises a lifetime of achievement.
He said:
"The emotion really kicked in when I went to the Philippines and saw children who were skin and bones – yet their parents worked in fields full of food. This kind of paradox is a very powerful, emotional driver."
He is currently leading one of five strands of work – on nutrition – for a United Nations food systems summit, due to be held in September 2021.
He explained: "Our role is to come up with game-changing solutions that governments and businesses could adopt. We want to ensure this is not just another summit – and that there are actions with operational plans behind them."
Find out more about Matt's and Dr Haddad's work.
Discover the other ways in which our University community is tackling Zero Hunger, for example through supporting farmers in sub-Saharan Africa by investigating the impact of climate change on sweet potato crops.
Affordable and Clean Energy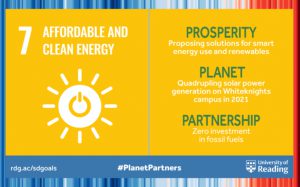 The seventh SDG is Affordable and Clean Energy, which covers enabling access to and scaling up the supply of reliable, affordable and sustainable energy for everyone.
CONNECTED is proud of the great strides taken by the University in decarbonising campus, as well as of our alumni, such as Peter Edwards, who is a wind farm pioneer.
The University has used only 100% renewable energy on campus for the past decade, and is now aiming to quadruple our solar energy generation on Whiteknights campus this year.
Dan Fernbank, Energy and Sustainability Director at the University, said: "Energy consumption is a significant cost for the University and has a significant environmental impact.
"We have purchased only 100% certified renewable electricity for over 10 years now, and we have a long track record of delivering energy-saving projects, as well as continuously expanding our onsite renewable energy generation capacity.
"We aim to lead by example and become recognised as one of the leading universities in the world for environmental sustainability."
In February, the University was awarded over £3.4 million to deliver a range of carbon-reducing initiatives, with projects needing to be implemented by September 2021 at the latest. The University's carbon-reducing projects include: a major LED lighting rollout, a large expansion of solar panels, replacement of inefficient ventilation systems, and improved sensors and controls to multiple heating and ventilation systems.
Reading graduate, Peter Edwards, is also committed to renewable energy and has spent his life navigating the winds of change. Peter and his wife, Pip, are founders of Delabole, the UK's first commercial wind farm which was constructed in 1991 and comprised ten 400kw turbines that could power around 3,000 homes.
Reflecting on the size and power of the wind industry today, Peter said:
"It's so satisfying to see just how far wind energy has come in the last 25 years, especially when I was initially accused of ruining the countryside for an insignificant amount of electricity."
Considering the increasing urgency to tackle climate change and the need to find greener energy alternatives, Peter said: "Perhaps the answer really is 'blowing in the wind'."
Discover more about Peter's work.
Find out how else our University community is tackling Affordable and Clean Energy, for example by helping Caribbean islands transition to green energy.