The corridors of the Reading University Boat Club (RUBC) are steeped in history – going back to 1894 – and have seen many student athletes pass through, including future sports stars.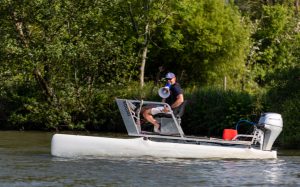 Director of Rowing at the RUBC and Reading graduate, Will Rand, has worked with many Olympians during his 17 years at the club – from current competitors including Mathilda Hodgkins-Byrne and Carragh McMurty, to many who have now hung up their oars such as Anna Watkins, Cath Bishop and Ric Edgington.
He said: "I grew up in Henley-on-Thames and my dad was an Olympic rower – although I didn't reach the dizzying heights he did, he was definitely an inspiration to me. I decided to study at Reading as it meant I could carry on rowing in Henley as well as joining RUBC."
Will was captain of the men's squad whilst at Reading, and after completing his degree in environmental science he went on to win Henley Royal Regatta in 2001, and reached the final of the Visitors Challenge Cup in 2007. Four years after graduating, Will's former coach asked him and a friend to step up upon his retirement and Will joined the coaching team in 2004.
While his time on the water has dwindled since embarking on his coaching career, Will is very passionate about supporting Reading's athletes – assisted by coaches Roddy Slater, and Olympians Charlie Taylor and Chris Bartley.
Supporting future Olympians
With the 2020 Tokyo Olympic Games starting tomorrow, Will speaks to CONNECTED about the importance of supporting aspiring athletes – from complete beginners to those who go all the way to the top.
"A lot of students choose Reading for the rowing and some join the club as beginners. We offer one training programme for beginners – who have three sessions a week on the water – and one for those more experienced – who have up to twelve sessions a week. Within that, the programmes can also be tweaked for individual needs, for example an aspiring Olympian will have some extras added in," he explained.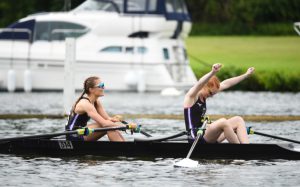 Will casts his mind back to working with some students who are competing in this year's Olympics.
He recalled: "Mathilda Hodgkins-Byrne was already quite advanced in rowing when she arrived at Reading. She trained with the Reading Rowing Club as part of the Team GB Start Programme, but she would always come and join us at RUBC.
"Mathilda was willing to get stuck in and would jump into crews with other students to race with them. She brought a lot of her ideas and ways of doing things with her, and it was good for our other students to observe her mind-set and professionalism.
"Caragh McMurtry was also a regular fixture at the club as a student. Since graduating, she's competed at the London 2012 Olympics and the Rio 2016 Olympics, and she is competing in Tokyo this year."
However, Will is keen to assert that the club isn't just focused on helping students reach the top of their sporting game. He explained: "Our aim is to help students achieve some of their goals and realise they can accomplish more, and to also support them when they don't quite make it.
"We see many aspirational students at the club – and being an Olympian can be hard for those that do make it, and hard for those that don't. An Olympian's journey doesn't always end in golden rainbows, and there's always the question of what next. People are quickly forgotten about in smaller sports like rowing, so life after the sport can be tricky.
"No matter our students' rowing aspirations, we aim to give them all a good standing in life – good friends and good qualities – for whatever their future might hold."
A sense of community
The notion of building friendships is one that Will has been keen to cement within the principles of the RUBC. Having been a student rower himself, he recalls his time there being a key point in his life.
He said: "I loved the social side of the club and I formed some of my closest friendships there. I'm still in touch with many of these friends today. When I started working at the club, I wanted to ensure that element kept going – I want students to be able to build fantastic friendships here.
"Extracurricular activities, such as rowing, are really important for mental health and the COVID-19 pandemic has demonstrated this spectacularly.
"Not being able to train put a big strain on many of our students during lockdown, because they were missing out on the social aspect and connectivity with other people. Rowing is much more than just a sport, it provides a sense of community.
"As soon as we could get back on the water in March 2021 – after the latest lockdown – the students were so excited. Although we still had to distance in separate boats on the water, they were able to chat, laugh and really enjoy themselves in a way they couldn't during virtual activities."
Balancing sport with study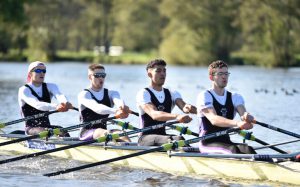 The University supports student athletes to balance the demands of their sport with their studies, and Will explains why this is so important.
He said: "We strive to ensure our training programmes fit around students' studies and we are conscious of the need to adapt training programmes if students have a busy week of coursework or exams coming up.
"Flexibility is key to helping them balance their education alongside their sport, social life and general living.
"We also do a lot of mentoring – helping students with a wide range of issues and personal situations – and calling on experts from around the University, for example in the areas of nutrition and psychology.
"A lot of people choose to both be a rower and to further their education because then they have a fall-back if one doesn't go so well. Having another interest outside of the sport is also important as it can enable you to get a better balance, and therefore improve performance."
Staying connected
The community aspect of RUBC is evidently integral for the students who train there, therefore it's unsurprising that Will is keen to maintain strong relationships with students after they graduate.
He said: "We try to stay in touch with our alumni as much as possible and offer continued mentoring to them if they would like it. They'll often come to our Assistant Coach, Charlie, with problems they're facing in their professional rowing careers.
"We have an alumni rowing club at RUBC, and we often see our graduates at the Henley Regatta or the annual Reading University Head of the River event. It's really great to see our old students again, and our current students love to meet them and find out what they've gone on to do."
Contact Will Rand if you would like to reconnect with RUBC, or find out more about Olympic hopeful, Mathilda Hodgkins-Byrne.