Amanda Millmore, Law, a.millmore@reading.ac.uk  Alison Cox, PCLS, a.cox@reading.ac.uk
Overview
This was a collaboration between 2 schools (Law & PCLS) to introduce students to the work of Registered Intermediaries in Court in a practical way by offering co-curricular training. Registered Intermediaries are communication specialists who work in criminal cases to assist vulnerable people with significant communication difficulties to communicate their answers more effectively during a criminal trial. 30 students from across the 2 schools attended.
Objectives
Finalist Speech and Language Therapy students gained a practical understanding of criminal Court practice and procedure and experienced hands-on how Registered Intermediaries work with witnesses.
LLB Law students learned about the work of intermediaries and gained practical advocacy experience, learning how to question witnesses successfully, and work effectively with intermediaries in a mock courtroom setting.
Context
This was a co-curricular week 6 activity designed to provide students with real-life experiences of their potential careers. It was an interactive workshop to enable the students from the 2 schools to come together to learn more about the work of each other in the context of a mock criminal case. They gained practical understanding  of the practice and procedure of the criminal courts and of the work of intermediaries. This is so important as the Courts are becoming increasingly aware of the communication difficulties experienced by witnesses and Defendants and the importance of mitigating those issues.
Implementation
We planned a day of workshop activities, starting with interactive lectures from Amanda about the practice and procedure in the criminal Courts, and how to question a witness, then hearing from Alison about the work of intermediaries and how they assist vulnerable witnesses. The students were given a mock trial brief, and worked collaboratively as advocates and intermediaries to prepare for a robbery trial. Amanda created the legal briefs, whilst Alison prepared intermediary reports about the various witnesses for the intermediaries to use. We then ran 2 mock trials simultaneously, giving every student an opportunity to participate as a lawyer, intermediary or witness. Intermediaries were encouraged to speak up to intervene in the trial proceedings to require the advocates to improve their questioning techniques.
Impact
Students worked collaboratively all day and acquired a range of key employability skills and an insight into real life practice. Law students have highlighted this work within their LinkedIn profiles and when applying for work experience and placements.
Feedback from questionnaires completed at the beginning and end of the day showed that all students felt the day contributed to understanding of the roles of advocates and intermediaries: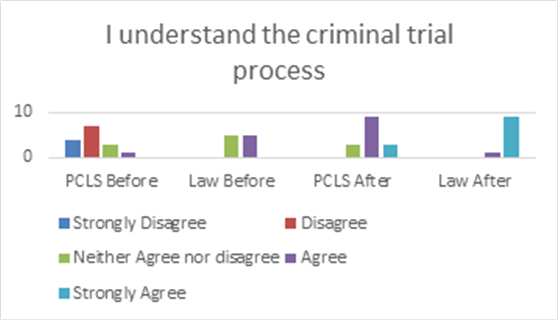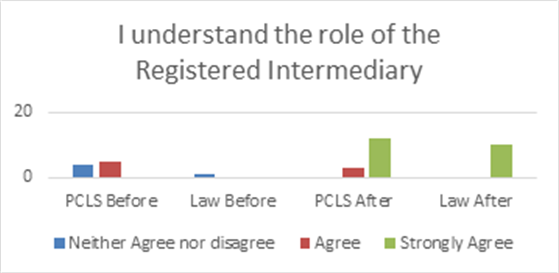 Qualitative feedback included many positive comments including:
'the trial was a unique experience putting theory into practice'
'would be great to see more joint sessions with different courses'
'enjoyed meeting and working with law students'
'enjoyed learning the challenges of questioning vulnerable people'
'absolutely wonderful!' 'positive atmosphere',
'loved the detail of criminal practice'
Final year law student, Oyin Arikawe said, "We were able to put what we learned into action towards the end of the day when we had a mock trial in which I got to practice my advocacy skills. The workshop was very useful and insightful as it gave me the opportunity to see and experience how intermediaries and barristers work together in court. I enjoyed every part of it!"
Whilst Part 1 student Kiiti Opesanwo said, "It was truly a great learning experience and provided great clarity towards how court cases are run in the UK. I am now encouraged to sit in at one of the Crown court trials in Reading to witness a real one."
We were commended on Twitter by The Secret Barrister who is an award winning author on the subject of the criminal justice system.
Reflections
The planning process was extensive, but led to a really interactive, practical workshop. We now have a set of materials which can be reused for further workshops.
The real success of the activity was the positive impact of mixing students from 2 very different schools, and giving them the opportunity to work together. This added a deeper dimension to their learning and raised awareness of the work of other aspiring professionals and how their paths may cross in future.
Mentimeter feedback from the end of the day: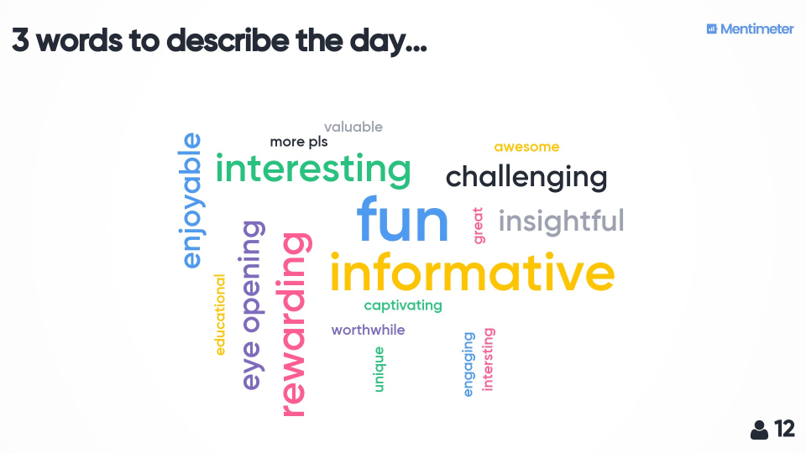 Follow up
We are now looking to see if we can secure sufficient funding to run the workshop again. We could have filled the places at the workshop twice over, and have had significant interest from other students who did not sign up initially.
Links and References
http://www.reading.ac.uk/Psychology/News/word-is-law.aspx