Introduction – What is Stream?
Stream is a video streaming platform from Microsoft. It is available to all staff and students at the University through your Office365 account. Open MS Stream.
You can use this to upload, store, play and share videos you have created (in the same way you can to YouTube).
You can upload most video file formats. (Video file formats accepted by Stream).
Advantages of using Stream over Blackboard for video content
Unlike Blackboard, Stream is a dedicated video streaming service with features for managing and playing videos (like YouTube).
It is easier for students to play videos in Stream.

Large video files in Blackboard can take a long time to load for students.
Some file types – including PowerPoint presentations – can't be viewed inside Blackboard and have to be downloaded. Downloading large files can take a long time and may even time-out in some situations or might use up a student's monthly download data allowance.

Uploading large video files to Blackboard (or PowerPoint with embedded audio/video) uses up the University's limited storage allowance, and can cause performance issues; Stream has a generous storage allowance.
Stream can automatically generate a transcript / captions of your video for accessibility.
Controlling access to your videos
When uploading to Stream, you can control access to your video using the following permission settings:
Only visible to you.
To specific people you name.
To a 'Group' – this equates with the members of a specific Microsoft Team.
To a 'Channel' – a collection of videos which you can share with one or more Groups.
To everyone – staff and students within the University.
To view screenshots of these settings scroll down to 'Setting Permissions'.
Sharing videos with your students
Once a video is uploaded, you can get a link or an embed code, and paste this into your Blackboard course. The link/embed code will allow permitted viewers to access the video.
Use the 'To everyone' setting if you if you don't mind the possibility that anyone in the institution could potentially watch your video. This is the simplest approach to make your video visible to students.
But if you want to restrict who can view your videos, or want to organise your videos into Channels, you will need to link Stream with one or more Microsoft Teams as mentioned above to control access to your videos.
You could set up a Team to be used for a specific module, for a seminar group, or even a Programme. You can add teaching and administrative colleagues; and you'll need to add all of the students who need access to your videos. (Note: at present you can only add students manually one-by-one).
To find out how to set up a Team, go to the Coronavirus and Remote Working Information section on the IT Self-Service Portal, and scroll down to the section on Office365.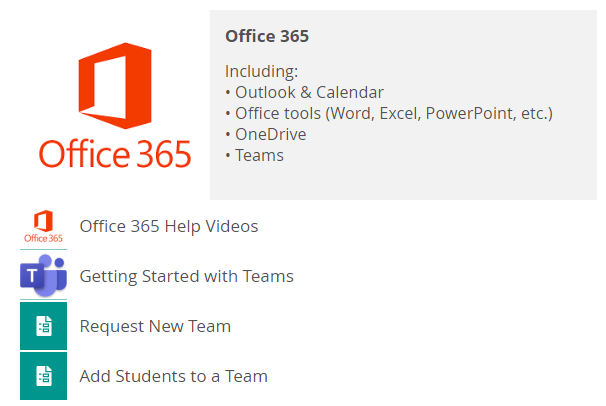 Follow the link to Request New Team.
Uploading content to Stream
There are several options to upload content to Stream:
You can upload video files directly to Stream from your device – see Uploading a video to Stream below.
You can record a Teams meeting and the recording will be automatically saved in Stream – see [Ms Teams: Record a meeting]
You can record a voice-over to a PowerPoint presentation, and export the presentation to Stream.
Uploading to Stream from Powerpoint
If you have the Office 365 PowerPoint app:
Create your presentation and record the audio as normal.
Then go to File > Export and choose Publish to Microsoft Stream.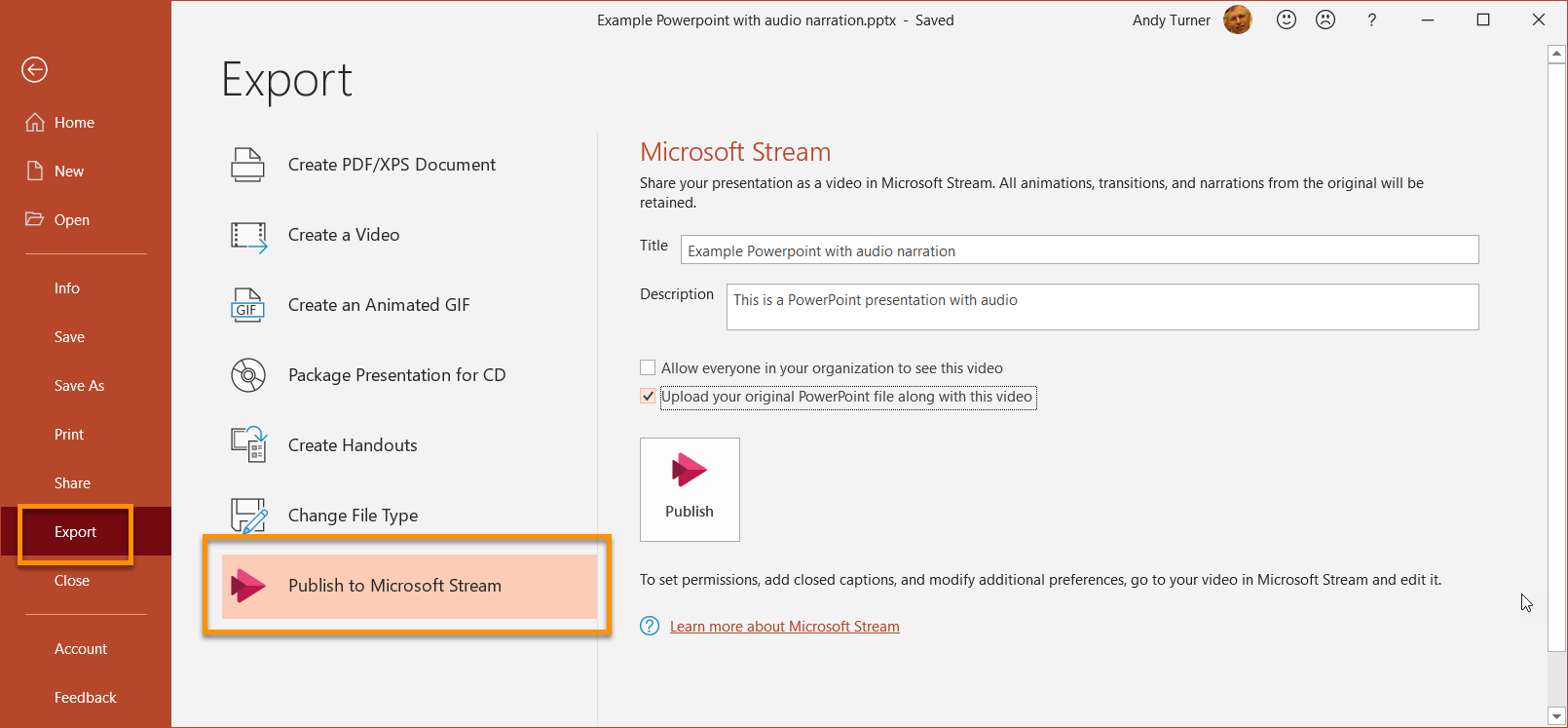 You can set permissions here (option 3 below) but you can also set these later in Stream.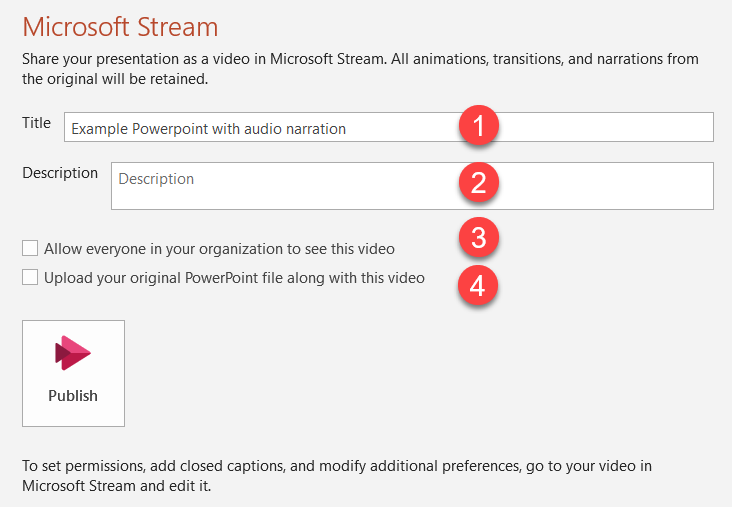 Press Publish  and wait for the video to generate and upload. Click on the message to view your video in Stream.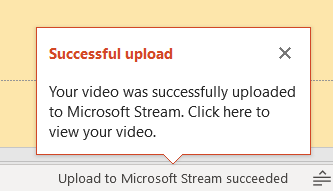 If you have a different version of PowerPoint installed e.g. PowerPoint 2016:
Export to video from PowerPoint.
Click File > Export > Create a Video. (Or, on the Recording tab of the ribbon, click Export to Video.)
See this Microsoft support article: Turn your presentation into a video
Choose your quality setting:
either HD (720p)               1280 x 720, medium file size
or Standard (480p)           852 x 480, smallest file size
Once the MP4 file has been created, upload it to Stream.
Uploading a video file to Stream
Open Microsoft Stream.
The Upload video button is on the top right of the screen in the main menu.

While your video is uploading and processing, you can edit the title and description, and edit the video permissions.

Sharing content to Blackboard
You will need to get the video link from Stream.
Click on the More actions button (looks like three dots), then choose Share from the drop down menu.

There are three options for sharing the video. Only two of these are relevant for use in Blackboard:
Copy the URL then use this to create a weblink on your Blackboard course.
Get the embed code then create an Item in Blackboard to embed the video.