Simon Floodgate, Institute of Education, s.floodgate@reading.ac.uk
Overview
A form of inter-active, reflective practice for students in which Playback Theatre (an improvisatory form) is used to 'play back' individual stories of students' experiences regarding all aspects of their studies.  This process can support emotional literacy and well-being and promote professionalism in students at all levels of study.
Objectives
To develop students' ability to both express and assert themselves in the world and to support them to be more successful within their studies. (TLDF Priority 2.2)
To support students to feel valued, gain greater awareness of their skills and articulate these to better address the challenges they face in the field of education and the workplace (TLDF Priority 2.3)
Context
To address concerns regarding student well-being and emotional literacy as highlighted both nationally, within the University and the IOE where workload and pressures have specifically impacted upon initial teacher training (ITT) students who are transitioning into teaching professionals.
Implementation
The pilot year, within the IOE, was focussed upon the training of a student performance group with a couple of performance-workshops undertaken with Secondary ITT students and IOE staff.  Both sessions were evaluated and the students involved as the performance team, were also asked to evaluate the benefits to them of engagement in the project.  The project enters a second year (2019-20), with further funding, to adapt the contact sessions.  This will lead to two different versions of Stories of Our Studies.  A full length, two-hour version will incorporate a full Playback Theatre performance of 1-1/2 hours duration in a more public setting.  A second shorter version will align the performance elements with discursive and written aspects focussed upon critical incident analysis (Lister and Crisp, 2007).  This will blend the elements for more captive audiences within module teaching sessions.
Impact
As a pilot project, Stories of Our Studies achieved its objectives.  A student team was trained to deliver the contact sessions alongside the project leader.  The project was presented to both PGCE Secondary ITT students and IOE staff, enabling feedback from different perspectives.  Staff were able to appreciate the potential impact upon student well-being.  The PGCE students were able to effectively reflect upon their learning, in particular focussing upon their school teaching placements. They were able to subjectively reflect upon how these experiences felt to them but also objectively appreciate what occurred, how their experiences were similar or different to others and to be able to consider themselves as professional teachers soon to embark upon their chosen profession. The TLDF priorities 2.2 and 2.3 were both met.
Reflections
The enthusiasm and willingness of the UG students who trained in the form was exceptional and their empathy and artistry were commented upon following both performance-workshops.  This was a major factor in the pilot's success.  The structure of the session with the main performance aspect following some Morenian sociometry facilitated a relaxed and intimate atmosphere thus enabling audience members to openly share.  The use of the form – Playback Theatre – was vital to the success of the pilot.
Although participants gained a lot from their engagement in the session, there is a further need to develop the sustainability of the reflective process.  To this end the project will be developed into longer and shorter iterations (as mentioned above).  There remains some difficulty in encouraging students to attend extra-curricular sessions and, for many, to attend events in which drama/theatre are mentioned.  This is a difficulty in attracting both student-performers and audience members.  Word of mouth will help and, like a stone gathering moss, momentum will attract more interest and students to engage with it.
Follow up
See above. The project has entered a second year with further TL enhancement (mini) funding.  It is evolving with the incorporation of critical incident analysis and a further blending of the performance and written reflection elements.
We already have more performance-workshops booked in the diary for 2019-20 than for last year, including presentation at the University's T&L conference in January 2020.
Contact has been made with the RUSU society, Open Minds, to investigate the potential of some performances to a larger student audience outside of timetabled teaching.
The performance-workshop, photographed last year, will be filmed to create a marketing online clip to promote the project.  Recruitment of new student-performer members has already begun.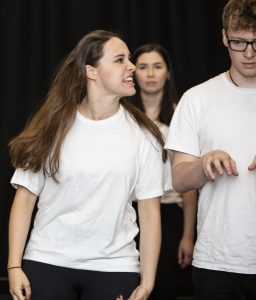 Photo of Playback Theatre in action