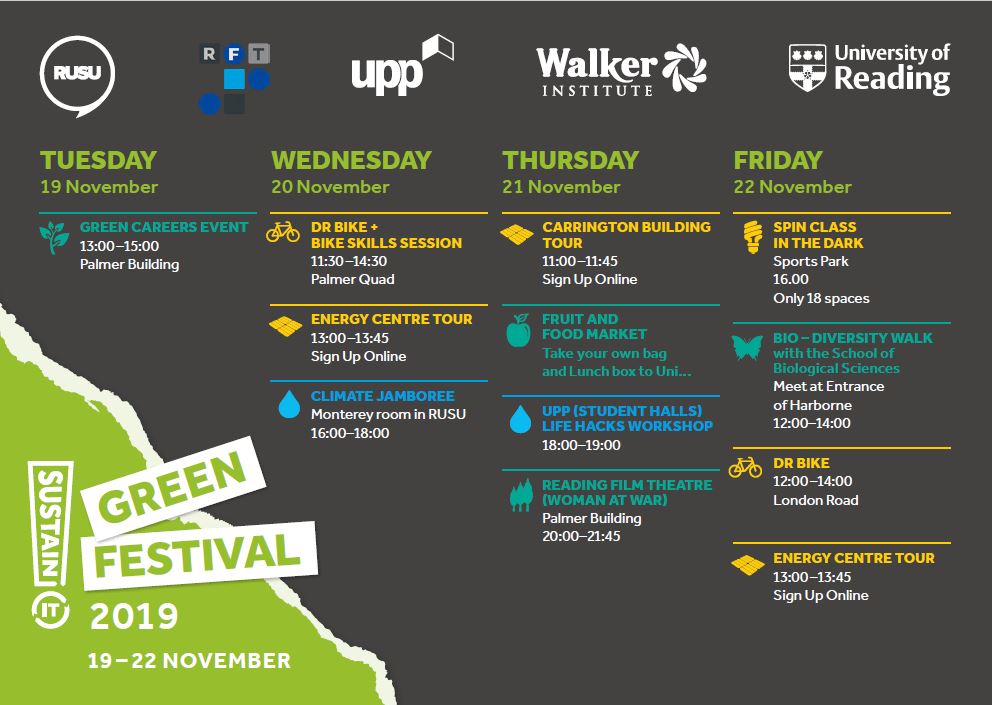 The University, with partners from across the University are hosting sustainable events across the estate to raise awareness of green issues, what actions have already been taken to turn the University into a sector leading institution and what more we all can do to reduce our collection environmental impact on the environment.
This year's Green Festival returns packed full of events. With the ever-popular tours of our Energy Centre and Carrington Building, which were fully booked almost as soon as being released last year. Dr Bike will be on site to repair and maintain all those bicycles including tandems and unicycles. The Reading Film Theatre are featuring 'Woman at War' in Palmer Building on Thursday 21st of November, the film features Halla, an environmental activist, who crusades against the local aluminium industry in Iceland. Life changes in a blink of an eye after her actions grow bolder... Then on Friday there will be a special spin class at the Sports Park for getting people in shape and working on a health mind and get you thinking about taking a bike to and from University.
Book here for an Energy Tour
https://www.eventbrite.co.uk/e/energy-centre-tour-2019-wednesday-20th-of-nov-tickets-66657108205
https://www.eventbrite.co.uk/e/energy-centre-tour-2019-friday-22nd-of-nov-tickets-66655286757
Book here for the Carrington Tour
https://www.eventbrite.co.uk/e/carrington-building-tour-2019-21st-november-tickets-66660002863
Book here for the Film Woman at War
http://readingfilmtheatre.co.uk/events/woman-at-war-kona-fer-i-strid-12a/ 
Our behaviour change platform JUMP (for staff) will be offering double points. So get on as many actions as you can over the Green Festival, who will come out on top?!
There will be full exciting programme of events published shortly and in the meantime, if you want to get involved in sustainability at Reading, email us at sustainability@reading.ac.uk.