Staff Training
This online training module will ensure all staff at the University have the skills and knowledge to make a positive environmental impact.
The module will also explain the impact you have on environmental and energy performance, your role in ensuring these impacts are managed and the importance or doing this.
You can access the online training module by clicking on the link and using your University username and password.
Should you feel you need additional training in areas such as waste, energy, travel or identifying environmental impacts/ risk more generally or specific to your area of work, then please let us know.
You can: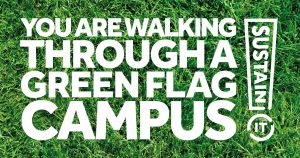 complete the module when you want and repeat the questions as often as you wish.
bookmark your progress and return to it when you like.
complete the module in one session - approximately 30-45 minutes.
Once you have completed the module, your training record through employee UOR Learn will automatically be updated. Please note that this training is mandatory for all staff, and you will be asked to complete it every 3 years.
Student Training
We've produced a short 2 minute video on how you can reduce your environmental impact whilst living in Halls of Residence and how best to travel around Reading. Take a look and let us know what you are going to do to help make Reading, a greener, more sustainable place to live! If you need more time to read any of the information, just press the space bar or click anywhere on the video...