The University has lots of offers for members of staff to help you choose more sustainable modes of travel. If you have suggestions of more that we can do, please let us know by emailing sustainability@reading.ac.uk.  Scroll down to view all the offers.
Try the bus for free
Taster bus tickets with 2 free trips are available for all new staff and postgrads. Perfect if you want to see if the bus can work for you. Detail of the routes around the University are available from Reading Buses website.
Collect your pass from your staff induction or from HR.
The University will fund the purchase of an annual season ticket to the maximum value of £7,500 by way of an interest free loan. You then pay back the loan in 10 monthly instalments from your net salary (i.e. after deductions for tax and National Insurance). View HR's Benefits Plus pages for full details.
more

The ticket will be valid for travel between your 2 chosen stations and can be used anytime including weekends, although it is intended for travel between home and work.
University employees can get discounted travel from Reading Buses. You can choose either an annual pass or a 90 day pass. The pass can be used on all routes within the relevant fare zone (SimplyReading or SimplyNetwork) and can be used in the evenings and at weekends, in addition to commuting to work. Under this scheme the payments will be taken as deductions from your net salary each month in equal instalments. Please see HR's Benefits Plus pages for details.
All University of Reading Staff can get membership of Co-wheels car club for only £1, plus £25 free driving credit when signing up with a University email address and our code. This great scheme lets you hire a car from as little as half an hour - perfect for the occasional business trip. Click here for more details of how to sign up.
15% off rail travel through the easit network
University staff can get a 15% discount on Great Western Rail and South West rail fares that travel in to and returning from Reading Station through our easitreading membership.  The journey may start and return to any station served by those providers, but the destination for a single or return ticket, (or season ticket), has to be Reading (or one of the other listed stations) for the discount to work.
Disappointing news from Great Western Railway (GWR) who has announced that they will no longer be offering 15% rail discounts to EasitNETWORK members for travel into Reading.
The company has agreed that it will honour discounts on any tickets and season tickets bought before 31 March 2020 by holders of a valid Easit card.  The University will remain a member of Easit, which will enable users who have bought a ticket or season ticket before that date to continue to use them until they expire.
More
To get this discount, along with many other offers you will need to apply for an easitCARD by visiting their website
www.easit.org.uk
and register using your work e-mail address. There will be a £5.05 as an admin fee for the card. The easitREADING network provides many other discounts - for full details of these you can register on the website without needing to purchase a card.
A detailed FAQ's document regarding the rail discounts is available from the easit website www.easit.org.uk/faq . Travel into Earley station is not currently eligible.
Please note that if you are travelling on University business, the rail discount is unlikely to be applicable as your rail destination is unlikely to be Reading - please use the University's business travel supplier, CTM. Full details of how to contact them can be found here: https://www.reading.ac.uk/closed/procurement/news/proc-travelnews.aspx
Buses that run day and night
Did you know the claret 21 never stops? It runs throughout the night so you'll always be able to get to the University. Details available from Reading Buses.
Update your car to a more efficient and less polluting model. Salary sacrifice discounts are available for new Ultra Low Emission Vehicles which includes electric vehicles.
Collect points and gain rewards for how you choose to travel, just by downloading an app. Points can be exchanged for a range of prizes or donated to local charities. Look out for promotional periods where the amount of points available for sustainable travel in Reading substantially increases.
Regular visits from Dr Bike - free bicycle maintenance
Take advantage of our regular visits from Dr Bike to keep your bicycle in tip top condition. You only need to pay for any parts that your bike may need. Dates of Dr Bike visits available here.
Get yourself a brand new bicycle with up to 42% discount through our Cycle2Work scheme. Our scheme is run through Halfords but you can select a bike from any participating supplier. See HR's Benefits Plus pages for details.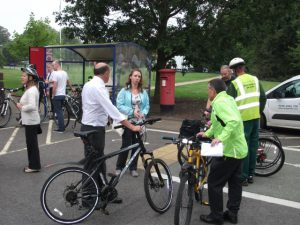 Cycle training
University staff and students can take advantage of our cycle training offers - whether you want to improve your road cycling skills, get back on a bike for the first time in years, or learn how to fix your bike yourself, we can arrange for heavily discounted and often free courses.