We're proud to consider ourselves a leader in cutting our carbon footprint, and have always taken an 'efficiency first' approach to reducing energy wastage in priority to investing in renewable energy, ensuring that we achieve maximum carbon reductions with the funds available.  Renewable energy technologies have never been far from our minds, but with a few exceptions, have seen a series of setbacks and disappointments.  That situation is now changing and by this summer, we expect to have installed over 300 kW of renewables in just 12 months.
Early success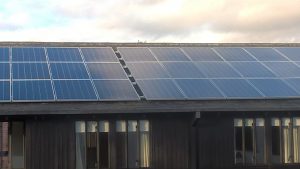 Back in 2007, we installed one of the first commercial-scale ground source heat pumps in Reading, providing low carbon heating to the new Carrington building.  This was complimented 4 years later by the addition of solar PV panels on Carrington's roof, which generate enough electricity each year to run the heat pumps.  Unfortunately that was 1 of only 2 PV systems we managed to install before the first of the Government's dramatic cuts to the feed-in-tariff support mechanism, and followed on closely from the disappointment of our proposed wind turbine in Shinfield being rejected unanimously by local planners.
A series of disappointments
By 2015, we saw new opportunities emerging, and reached advanced stages in planning an innovative community-owned 1MW solar PV installation across our estate, only for further large-scale cuts to hit the feed-in-tariff scheme, again scuppering our plans.  The ashes of that scheme did at least contribute to the creation of the Reading Community Energy Society by a group of local volunteers, but renewables at the University remained stalled.  To complicate matters further, the Government introduced a ban on 'extensions' to renewable energy systems qualifying for the feed-in-tariff, making our entire Whiteknights campus inelgible for support due to our 2 existing PV systems.
A corner turns
Happily, things are now changing, and they're changing fast.  In summer 2017, we installed 20 kW of solar PV for our new Bourne and Berry Brook accomodation blocks at the Greenlands Henley Business School, with the buildings' heating and hot water provided from low carbon air source heat pumps.  This summer, we will be installing a significant 160 kW of subsidy-free solar PV panels on the Edith Morley and Wager buildings on Whiteknights; the first we hope of more systems to come as panel prices continue to fall.
Added to that, we are exploring the potential for an innovative water source heat pump at Greenlands.  Whilst there are many hurdles still to overcome, renewables are increasingly becoming 'business as usual' and if our heat pump project proves viable and gains the appropriate support and approvals, renewable energy will be another significant tool in delivering a sustainable, low carbon University.