Using the River Thames for heat
Since 2017, the University has been investigating the potential to provide low carbon heating to its Henley Business School, Greenlands campus. The site has a prime location on the banks of the River Thames on the outskirts of Henley-on-Thames.
Heating at the site is currently from oil-fired boilers in each building and investigations have identify a water source heat pump to be a viable low carbon alternative. The large heat body of the River Thames nearby makes this a potentially ideal resource for low-grade heat to be extracted from.
In simple terms, a heat pump works like a fridge – low grade heat is drawn from a heat source by evaporating a liquid, which draws out heat.  This is then condensed at high pressure to produce useful building heat; producing around 3 units of heat output for every 1 unit of energy input. For a water source heat pump, the river water would first run through a plate heat exchanger to transfer its heat into another liquid, so the river water itself can be returned unaffected (but at slightly lower temperatures) back to the river.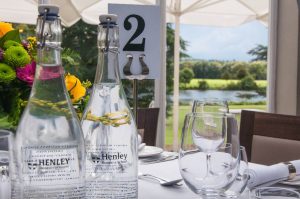 This is of course a complex project, and there are still a number of issues to resolve before we are able to turn this scheme into reality.  We continue to work through these issues and remain hopeful of being able to set an exemplar for low carbon heating solutions locally and beyond.
Local interest
We have developed a lot of knowledge through our feasibility work on this scheme. Recently, we have been pleased to meet with Henley's Climate Emergency 2030 Working Group (CE2030WG) to share the benefit of our experience. Of course, there are a number of potential applications for water source heating within Henley-on-Thames itself, and we hope to be able to share our experiences further as schemes develop.  It is also great to hear more about their exciting plans to deliver a zero carbon town.
Sustainable hotel accommodation
We have also developed 2 new hotel buildings at Greenlands – Berry Brook and Bourne. These use Air Source Heat Pumps to extract energy from the air to heat the blocks. Solar PV panels mounted on an adjacent building feed the supply to these buildings, effectively delivering carbon neutral heating. This is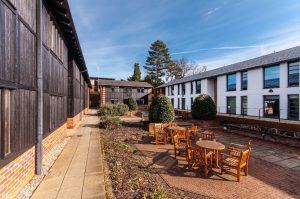 also of great interest to the Climate Emergency 2030 Working Group, as an example of what can be done in similar size buildings to help them achieve zero carbon consumption in Henley.
Opened in 2017, the buildings have a range of green credentials:
A BREEAM 'Very Good' Environmental Rating
Heating from low carbon air source heat pumps; producing 46% less CO2 emissions than fossil fuel alternatives (saving 40 tCO2/annum*)
20.17 kWp of solar panels feeding into the electricity supply for the new buildings (saving 8 tCO2/annum)
A greywater collection system; filtered and used for WCs
Energy efficiency lighting throughout
Insulation levels and air-tightness significantly above Building Regulations
Designed to maximise natural daylight while minimising solar gains
High quality, durable, responsibly sourced building materials selected with low embodied energy
Species rich lawn turf
*As grid electricity continues to decarbonise, this figure will increase in the future
In the coming years, we hope to emulate the success of this building and deliver low carbon heating across the entire site. Along the way, we look forward to working with Henley's Climate Emergency Working Group and others in our collective journeys to a low carbon future.