The Sustainability Services team would like to extend a huge thank you to everyone who participated in this years' travel survey. The survey was completed in January 2020, before the COVID-19 outbreak took hold in the UK.  The responses have provided some great feedback, which will help to shape the proposed travel action plans for the years ahead.
A brief summary of the key findings is provided in this blog. You can find the full results of the travel survey here.
How do staff and students travel to University?
The overall (combined staff and student) modal split for commutes to the University in 2020 is shown below.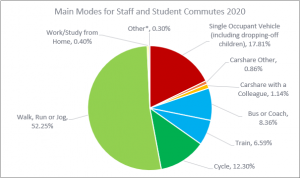 The majority of commutes to the University continue to be on foot, with single-occupancy vehicles being the second most popular mode of travel. There has been something of a concerning rise in the use of Single Occupancy Vehicles (SOV), both for staff and students.  Non-SOV travel is targeted to reach 83% (original target) – 87% (stretch target) by 2022.  Currently, the University is off track to meet both its original and stretch targets.
Key issues raised
Off campus routes and crossings: Concerns over a lack of pedestrian crossings outside entrances to Whiteknights campus were raised, particularly on Pepper Lane and Whiteknights Road (by Wessex Hall and near Childs Hall).
Off campus routes and crossings: There are significant concerns regarding the safety of cyclists on the orbital roads surrounding Whiteknights campus (i.e. Shinfield Road, Pepper Lane, Wilderness Road, Whiteknights Rd, Upper Redlands Road) with requests for cycle lanes to be built.
Shared routes / paths on campus: There were requests for marked cycle and pedestrian segregation on the widened routes on campus, due to safety concerns arising from speeding bikes and large numbers of pedestrians.
Shared routes / paths on campus: There is concern about the condition of the path surface in The Wilderness and around Whiteknights Lake, particularly in the winter when they can become water-logged
Shower facilities: Concern about the condition of current showering facilities, including a lack of space to change, access to hooks to hang clothing, and no hair dryers. Where only one shower is available in a building, concern was raised about the time spent queuing.
Cycle parking: A number of requests were received to install more secure cycle parking compounds on Whiteknights campus, but without clear indications of where new compounds should be installed.
Working from home: There were numerous requests from staff for more support and encouragement to work from home. The majority of these requests came from members of staff that recorded using a car as their main mode of transport.
Working from home: There were also requests for the University to further adopt video conferencing as an alternative to travel.
Bus route 21/21a: complaints of peak-time overcrowding and out of term time bus frequency.
Bus route 19a/c – requests for more improved frequency, particularly at peak times, as there are currently no 19c buses arriving before 9am,
Car sharing: Requests were raised for more support for car sharing.
EV Charge Points: A number of requests were made to install more EV charge points at new locations at Whiteknights campus, particularly at Earley Gate.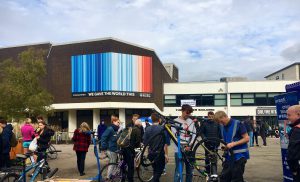 Conclusion / Actions to consider
Some of the key actions identified from the survey that would benefit staff and students, and our progress towards our Travel Plan targets, include:
Continued feedback to local councils relating to pedestrian crossings and improvements to routes for cyclists outside campus, with a specific focus on Pepper Lane and Whiteknights Rd.
A programme to improve existing shower and changing facilities on campus, including lockers.
Contact with Reading Buses about the issues being experienced by peak-time and out of term time travellers, particularly on routes 19 and 21. This needs to be considered in the context of the current Government advice, which due to the COVID-19 outbreak, is to avoid public transport at this time where possible.
Recognising some of the learnings from the COVID-19 shutdown, making continued progress on opportunities for home-working, including flexible working practises.
Improvement in the provision and promotion of car sharing initiatives.
Improved provision of EV charge points on campus.
Improved promotion of the available travel offers via improved webpages and promotion of those pages, particularly to new staff and students.
If you have any additional feedback / suggestions / questions / requests do let us know by emailing sustainability@reading.ac.uk.