While exploring Whiteknights campus, you may have spotted several large glasshouses which are part of large complex called the Crop and Environment Laboratory (CEL). CEL is one of many research facilities offered by the School of Agriculture, Policy and Development (SAPD) where research is focused on food security and resilience to climate change.
Last year, Sustainability Services approached SAPD regarding the opportunity to fund the upgrade of the growth lamps in some of the CEL glasshouses to deliver significant energy savings.  Following technical assessments by Professors Paul Hadley and Donal O'Sullivan in Crop Sciences, the project was approved for funding and a supplier appointed.
Work has recently commenced to install new LED growth lamps in two of the SAPD experimental glasshouses. The growth lamps found in the glasshouses are primarily used to supplement natural light in the winter months and to extend daylength for certain crops to mimic their natural environments. Using the growth lamps also enables researchers to mimic tropical environments, allowing them to grow tropical crops year-round.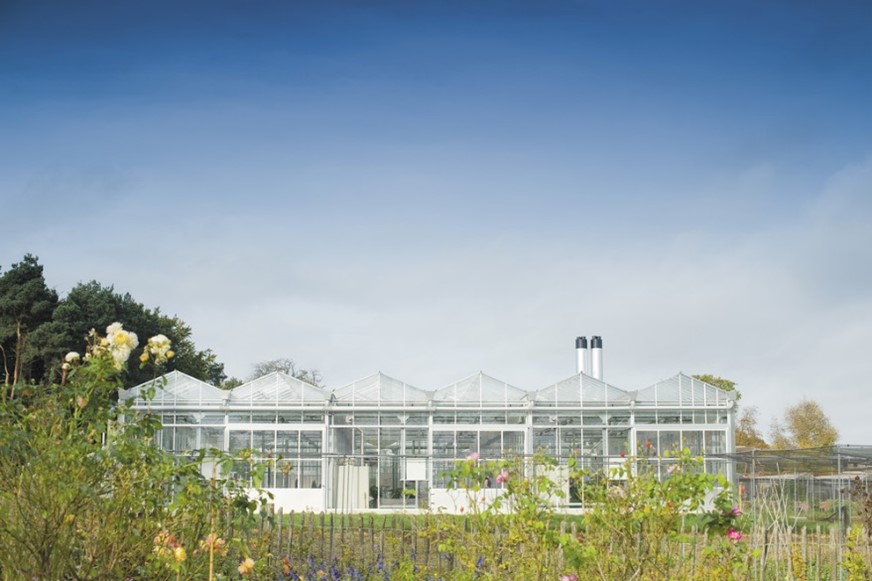 The previous lamps used were 400-watt sodium bulbs, which were inefficient and offered relatively limited light intensity in comparison to their new counterparts. The new 300-watt LED growth lamps are more efficient and provide a higher light intensity and a wider spectrum of light for growing, which will help to improve growing conditions. It is expected that the upgrades will save over 66,000kWh and 16.8 tCO2 each year, which is the equivalent of removing 22 houses from the national grid*. Using today's electricity prices, the LED lamps are expected to provide annual electricity savings of roughly £10,000.
As well as providing energy savings, the LED lamps also provide research benefits for staff and students working at SAPD. The new growth lamps will enable researchers to grow better, more uniform crops for experiments. Having a more uniform crop will help to reduce variables when looking at the effects of climate change and of food security. It is hoped that the new lamps will also enable researchers to grow crops for experiments faster, increasing overall work output.
Once all new LED lamps are installed, one of the first projects that will benefit from them is the soft fruit technology (SFT) groups strawberry research. The SFT group are pioneering LED research with the goal of year-round fruit production. The Crops team will also be growing a new collection of faba bean mutants under the lamps this coming autumn and winter. The installation of the new growth lamps provides a major step in the refurbishment of the glasshouse facilities at CEL and we look forward to learning about their results of both groups!
*Typical Domestic Consumption Values (TDCVs) are industry standard values for the annual gas and electricity usage of a typical domestic consumer and the 2020 figure released by Ofgem is 2,900 kWh.