This year's People & Planet University Green League saw Reading achieve it's highest ever position, being placed 15th amongst 154 UK universities for its environmental and ethical performance.  For the third year in a row, the degree-style classifications awarded Reading a 1st class performance.
We maintained or improved our scores in every area but one (we'll come back to the one!), with particularly impressive improvements in the areas of Ethical Investment, Education for Sustainable Development and Staff and Student Engagement.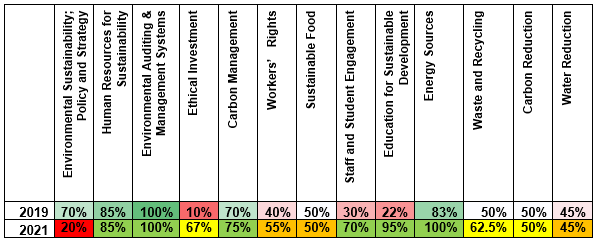 An overall improvement in our score from 55% to 69.9% reflects the significant amount of work that has taken place over the past couple of years to prioritise environmental stewardship at Reading.  It also underlines the value and relevance of setting a target to achieve a top 5 Green League position by 2026 as a key performance indicator for the University.
Ethical Investment
We have historically scored poorly in this area, only scoring 10% in the last Green League in 2019.  Since then, the University has radically overhauled its investment strategy, completely divesting from fossil fuels and setting a strong policy centred around environmental, social and governance (ESG).  This includes specific exclusions of a range of investments, including fossil fuels, arms, pornography, tobacco and gambling.  It also prioritises positive investments, including environmental sustainability, workplace diversity, combatting poverty and promoting women's rights.  Our current score of 67% is therefore welcomed, but we know we can go further (see 'Room for Improvement' below).
Education for Sustainable Development (ESD)
The University has several leading sustainability-related degree courses, yet it in the last Green League in 2019, only scored 22% for ESD.  Since then, one of 6 work streams set up by the University's Environmental Sustainability Committee specifically focusses on this area.  This has brought together academics from across the University to bring some strong but often disconnected initiatives together into the foundations of a very strong programme for the future.  We are particularly proud that People & Planet have awarded us a score of 95% this year, but see this as just the start of a wide-ranging programme to embed sustainability education for both our students and our staff.
Staff and Student Engagement
We picked up good points for setting out a clear communication and engagement plan for staff and students.  Meanwhile, the Student Union's achievement of a 'Gold' award for in the NUS Green Impact Awards further improved the University's scores in this area.
Room for improvement
We will take the time to assess how to continue to improve our Green League scores and anticipate that People & Planet's criteria may evolve as a 'race to the top' is emerging.
In Sustainable Food, our membership of the Menus of Change Universities Research Collaborative is already sector leading and we are hopeful that People & Planet will recognise this as comparable with the 2 schemes they current accept as evidence of good practice.
We believe our Ethical Investment score does not fully reflect the strength of our new investment approach, and we will work hard to ensure we better meet People & Planet's criteria, including through a review of our banking services.
And there's the one area our score declined – Policy & Strategy – which came as an unwelcome surprise, and results from People & Planet awarding us zero for our environmental policies this year because, like most Estates function policies, we only formally review our Energy & Environmental Policy every 2 years rather than every year.  We strongly believe that this does not undermine the strength of our environmental commitments and strategies, but in the interests of continuing to improve our Green League performance, will revert to an annual review of this Policy next year.
Looking ahead
As 2021 ends, work is already beginning on improvements to keep moving on up the Green League in 2022!