Education for Sustainable Development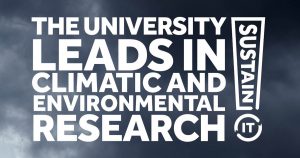 The University is a leader in academic research into climate change and the effects it has on the planet. One of the University's five key research themes is the Environment and more information on the work being done to understand and tackle the issues we face today can be found here
Estates work closely with academic colleagues and students from across the University to support the work they are doing. This can include helping to develop projects about issues we face at Reading, putting students in contact with key stakeholders or providing data for students to analyse whether that be around energy, waste or travel.
Living Lab
We are always keen to use conclusions from student reports to improve sustainability at the University. Below are some examples of studies that have directly impacted energy and environmental management at the University:
Optimising lighting controls – a study of lighting controls in the Chancellors Building by a student from the School of the Built Environment and overseen by Professor Li Shao in 2018 helped inform us about the optimum time delay for lights to switch off after sensing no movement. (Credit - Wesley Tang)
Post occupancy evaluation – May 2020 – a post occupancy evaluation of energy efficiency improvements in the Edith Morley tower. The study was conducted by a building surveying student, overseen by Dr Emmanuel Essah and identified the building achieves good thermal comfort, which needs to be balanced with achieving good indoor air quality in the naturally ventilated building. (Credit – Charmaine Lok Ching Wong)
Grey water system evaluation – summer 2021 – a renewable energy student, under the supervision of Dr Maria Vahdati, is reviewing the effectiveness of the University's first grey water system, installed in 2018 in its new accommodation blocks at the Henley Business School, Greenlands campus.
Sustainable packaging for take-away food – summer 2021 – an environmental science student, under the supervision of Dr Steve Robinson, is considering the way that take-away food is sold from shops, cafés, and restaurants on campus, to understand what is the most environmentally sustainable packaging when considering the life cycle impacts and the practicalities of disposal methods for different packaging materials such as oil-based plastics, paper/cardboard, and plant-based plastics.
If you would like to develop a project based on an issue here at Reading, or require data, please do get in touch with Sustainability Services by email at Sustainability@reading.ac.uk