Education for Sustainable Development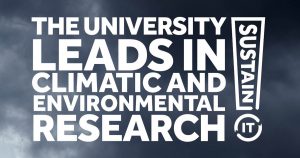 The University is a leader in academic research into climate change and the effects it has on the planet. One of the University's five key research themes is the Environment and more information on the work being done to understand and tackle the issues we face today can be found here
Estates work closely with academic colleagues and students from across the University to support the work they are doing. This can include helping to develop projects about issues we face at Reading, putting students in contact with key stakeholders or providing data for students to analyse whether that be around energy, waste or travel.
Living Lab
We are always keen to use conclusions from student reports to improve sustainability at the University. Below are some examples of studies that have directly impacted energy and environmental management at the University:
Optimising lighting controls - a study of lighting controls in the Chancellors Building by a student from the School of the Built Environment and overseen by Professor Li Shao in 2018 helped inform us about the optimum time delay for lights to switch off after sensing no movement. (Credit - Wesley Tang)
Post occupancy evaluation - a post occupancy evaluation of the University of Reading Sports Pavilion conducted by a building surveying student and overseen by Dr Emmanuel Essah identified some important issues around over heating in one of the rooms. In addition, they also highlighted issues with the flow rates of the new showers and how they are controlled. The conclusions have been used to inform the refurbishment of the male shower facilities in the main Sportspark which will be undertaken during summer 2018. (Credit - Celene Sik Yin Ng)
Environmental audit of conference facility - in late 2018, Sustainability Services again hosted an Environmental Management BSc group at Greenlands, acting as the client as they conducted an environmental audit of site.  This included a site tour, presentations and an excellent question & answer session.
If you would like to develop a project based on an issue here at Reading or require data, please do get in touch with Sustainability Services by email at Sustainability@reading.ac.uk