Travelling on University Business
It's important for the University to maintain it's excellent reputation and part of that involves national and international collaborations, conferences and working. For many staff at some point this is likely to involve travelling on University Business.
Emissions from flights are the only area of the University's carbon emissions that are increasing rather than decreasing. To help us address this please consider the following tips.
Consider alternatives
Technology
Think; is your journey actually necessary or would technology suffice? You can save yourself and your department time and money by using email, phone and online collaborations tools. Technology has improved greatly over the last few years; you can get everything you need from your desktop, but other facilities such as rooms for videoconferencing are available. Have you tried Office 365 and Teams at the University yet? Check out the University's How to set up and hold a conference call in Teams. See our 'Alternatives to travel' page for updates on technology provided by the University and flexible working information.
If you do need to make the journey, consider are there other options rather than flying?
Rail
Many European countries are now becoming more easily accessible through rail improvements, also helping to reduce journey times. These should be considered where applicable instead of flying; however, we understand that it is often not viable to replace flights with trains.
UK Travel
If travelling by train within the UK, split-ticketing might save you money - one website to highlight the options for this is https://split.traintimes.org.uk/
Handy links
When booking any travel remember to use our contracted travel bookers and follow the expenses policy.
Some handy links if you're looking to book travel on University Business:
Carbon Offsetting
University of Reading is committed to achieving net zero carbon by 2030 and defines this as "cutting greenhouse gas emissions to as little as possible and then balancing the remainder by enhancing carbon sinks which remove carbon dioxide from the atmosphere'. As such we will:
- Prioritise the reduction of carbon emissions
- Set up a working group which will develop a robust and reputable approach to carbon offsetting
- Develop our own carbon insetting projects to sequester unavoidable carbon emissions
While reducing carbon emissions will always be the first priority, there are activities undertaken by the University which will continue to emit carbon and so carbon offsetting / insetting must be considered in order to meet our net zero carbon ambition. This is particularly relevant to business travel, where emissions were growing steadily before the COVID-19 pandemic resulted in a temporary halt to travel. Whilst this has provided a unique opportunity to consider alternatives to travel, a return towards normal operations will see travelling increase and mean some level of carbon offsetting will be required into the future.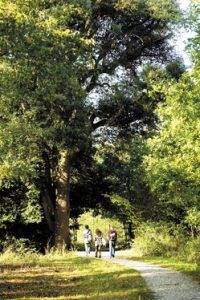 Key principles
If you have a requirement to use carbon offsetting as part of a grant application or procurement exercise, we recommend caution and abiding by the following key principles:
• Reduction first – always consider whether you can reduce emissions by avoiding travel altogether by using teleconferencing or using a lower carbon option such as rail
• Sustainability – the offsetting project should not cause environmental, social harm or undermine any of the Sustainable Development Goals
• Permanent – the carbon should be locked away for a long time, with protections in place to stop it being reversed
• Displacement - the offsetting project should not displace emissions to another place or time
• Counted once – the removals made by the offsetting project must not be claimed by more than one party
Calculating your carbon emissions
We recommend using the Carbon Footprint calculator to calculate the carbon emissions associated with the activity you are undertaking. Once you have the amount of CO2e in tonnes, you can then give this figure to your chosen offset provider.
Choosing an offsetting provider and project
In the first instance, we recommend using the offsetting scheme offered by the University's contracted travel provider:
• Gray Dawes Travel offer an offsetting option (Legacy) for bookings made through them. They calculate carbon emissions from travel bookings and provide that data to their partners, Forest Carbon. This data is used to calculate the number of carbon credits required and then invested in the chosen offset project. We currently recommend Legacy International projects as these offer immediate carbon neutrality representing ownership of delivered carbon savings usually involving older and more mature woodland or peatland restoration.
Otherwise, there are numerous other providers involved in this field, leading to large variability in the type of projects available. We recommend considering the Gold Standard which offer potentially reliable offsetting projects, with internationally recognised certification.
The University will continue to develop its approach to carbon offsetting in the months and years ahead.
Please see Research Services' Carbon Offset policy here.