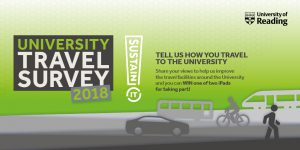 Travel Survey 2018! – Let us know your views and suggestions – win an iPad
It's time for the University's biannual staff and student travel survey. Take the travel survey
We really hope you take the opportunity to let us know how you get to our campuses and your views on what we can do to improve this for you. You could win one of two iPads by taking part!
Your views are important to monitor how we are doing against the University Travel Plan, and to develop the action plan for the next couple of years. See what we have done as a result of your great responses to previous travel surveys on the Sustainability Services Travel Plan pages. Recent actions included the widening of the shared route between Friends Bridge and Agriculture, and installation of a larger bus shelter on Chancellors Way.
It's quite a detailed survey, but only a few of the questions are compulsory so you can skip most areas that are not of interest to you.
We're also trying to encourage you to be specific in any suggestions you wish to make – the more detail of where you are talking about the better – eg 'more cycle parking' is not so helpful as 'more cycle parking at x building'.
The Travel Survey is open from Wednesday 10th January until Friday 2 February.
Thanks in advance for your help.