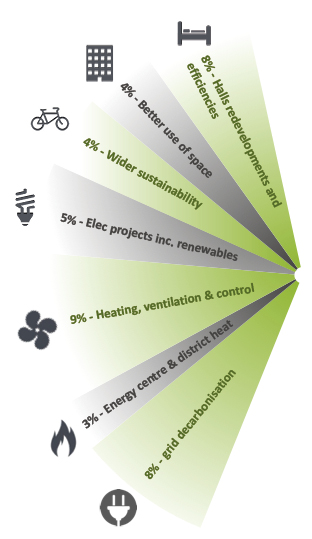 This year has been one of achievement for sustainability at the University. Concerns around environmental issues locally, nationally and internationally have continued to grow in prominence, and this in turn has seen a distinct increase in the appetite and expectation for sustainability action within the University. This has also been evident in the appetite for sustainability to feature within the University's new core Strategy. The 2019/20 academic year promises to be an exciting one for sustainability, and one in which we can set new expectations for our ongoing environmental leadership.
Cutting Carbon 
Having now exceeded 40% carbon reductions since our 2008/09 baseline year, and on track to reach 43% – 45% reduction by 2021. The programme has delivered £30 million in cumulative revenue savings since 2011. This year alone, we have installed over 500 individual solar panels, at Whiteknights, London Road, Greenlands and Thames Valley Science Park. Meanwhile, energy efficiency continues to play a key role, such as in IT's upgrades and rationalisation of the University's central servers, which have delivered almost 100 tCO2 and £45,000 of annual savings.
Reducing Waste 
The recycling rate has remained reasonably static at just over 50%. However, the University's target for total waste reductions per person has been massively exceeded, with a 15.5% reduction compared to a target of 5%. Over the last 3 years, the Waste Strategy has delivered cumulative revenue savings of £213,400.
The re-use schemes have continued to expand, with almost 20 tonnes of 'waste' furniture/
equipment being put back into circulation this year, delivering further avoided costs of £90,000
over 2 years.
Changing Behaviour
Our behaviour change platform JUMP saw over 16,000 sustainability actions reported in just 9 months.  This demonstrates how small combined actions can add up to big impacts. The platform has been expanded to include a new section on 'wellbeing'.  This section is in partnership with the University's Human Resources department.
You can find out more about how the University is doing on sustainability by clicking here to read our Environmental Sustainability Report 2018/19.