The University's Energy & Sustainability Manager, Dan Fernbank, has been awarded Public Sector Energy Manager of the Year at the 2019 Energy Management Awards.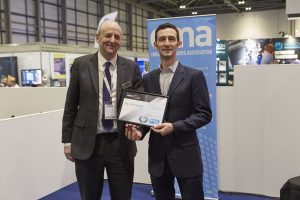 Run by the Energy Managers Association (EMA), the awards recognise and celebrate outstanding work in the energy management and sustainability industry.
Dan has led the University of Reading's Sustainability Services team since 2011. Some of the team's main achievements during this time include:
Ensuring the University met its 35% carbon reduction target in 2016 (compared to its baseline 2008/09 emissions)
Achieving a 40% carbon reduction earlier this year – keeping the University on track to deliver on its current 45% reduction target by 2021
Introducing a campus-wide refillable bottle scheme in partnership with Coca-Cola in 2017, helping to reduce the number of single-use plastic bottles on campus by more than 150,000
Recycling more than 100,000 coffee cups since March 2018
A major expansion of the University's solar panel programme, with more than 1,000 individual panels now installed across campus
The EMA judges said: "The winning candidate has overseen an impressive reduction in the organisation's carbon footprint which has put the organisation as a leader in their sector. The candidate has developed a number of tools which are used to monitor planned operational changes and identify the potential of energy and carbon savings in buildings. His drive is encouraging others to learn from the experiences and promoting the industry to future energy and sustainability professionals."
Commenting on the award win, Dan said: "As a university with extensive expertise on climate change it is only natural that sustainability is at the heart of everything we do.
"Support and investment from the senior leadership of the University has enabled us to put many of these initiatives and practices into place, but it is participation of our staff and students that have helped us to achieve the fantastic results we have.
"It is very encouraging to receive this recognition from the Energy Managers Association. The University will continue in its efforts to make Reading a greener, more sustainable place to study."
The award was presented at the EMA's annual Energy Management Exhibition at Excel, London on 27 November.