The Academic English Programme (AEP)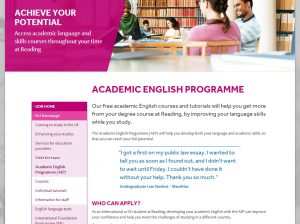 helps non-native English speaking students reach their full potential on their Reading degree programmes. Each department at Reading has a dedicated Academic Language and Literacy Liaison contact from the AEP. We can offer advice and support on matters related to international/EU students and any student whose first language is not English. If you have any questions about the AEP, please contact your Liaison using the contact details on the web pages.
The provision has a number of strands:
You can refer your international and EU students to AEP 'open-to-all' courses run each term which offer academic skills and literacy development with an integral English-language dimension.
Written Language courses: Academic Grammar; Core Academic Writing Skills; Dissertation & Thesis Writing; Essays: Criticality, Argumentation and Structure
Spoken language courses: Presentation Skills; Pronunciation; Speaking; Social English