One-to-One Careers Coaching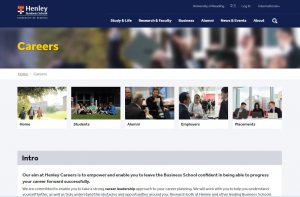 Bookable appointments, with a dedicated Careers Consultant, are typically 30 minutes in length, held either face-to-face or via Skype / phone. Discussions cover a range of topics, but often include:
Coaching students to understand their own strengths, values & motivations to build self-awareness, resilience and knowledge, to make the important decisions throughout their career journey;
Advice on job application documents e.g. application forms, CVs & covering letters;and
Guidance on seeking internships, placements, graduate roles and more, as well as how to tackle the whole recruitment process, including mock interview practice.
Appointments are bookable by visiting MyJobsOnline, via the 'Appointments' tab. 
Transferable / 'Soft' Skill Development Events
We offer your students a range of workshops and events to help develop skills that are fundamental to many jobs. As well as ad-hoc events, flagship programmes include:
Resilient You – a series helping students thrive by managing their academic and professional demands. Topics cover anxiety management, boosting productivity and beating procrastination.
Spring Forward – opportunity to develop key professional behaviours and hear insights from employers about their importance in the workplace; and
Success Studio – a series of fun, experiential and interactive evening events, designed to expand comfort zones and build confidence. Sessions include Stand-Up Comedy and Serious Lego Play.
Most events are searchable and bookable via MyJobsOnline, under the 'Events' tab. 
Networking / Career Insights Events
Using our industry contacts, our employer led events offer your students an opportunity to increase their commercial awareness, gain insights into achieving career success in various industries and build their professional contacts through informal networking events.
Industry Insights – focus on employers from financial disciplines e.g. Lloyds Banking Group;
Monday Night Employer Panels –  professionals from Marketing, HR, Consulting and more;
RREF Evening Lecture & Rural Chartered Surveyor Lecture Series – leading property firms; and
Placement Fair & Placement Poster Fair – events allowing students to meet with employers hiring placement students and to learn from experiences of returning placement students.
Most events are searchable and bookable via MyJobsOnline, under the 'Events' tab. 
Careers Resources, Information and Tools
Henley Careers offers a range of resources to assist in your student's career learning:
Henley Careers Blackboard – portal for accessing comprehensive careers info & tools;
VMock – Artificial Intelligence CV Checker, providing 24/7 advice and guidance;
Vault.com – in-depth insight into a range of careers and industries;
Firsthand – online mentoring platform, connecting students to industry professionals;
Print material including Times Top 100 Graduate Employers & TargetJob Publications;and
Various webinar sessions typically delivered or facilitated by a member of Henley Careers.
Most online resources can be accessed from the Blackboard homepage, by selecting 'Henley Careers' underneath the 'Organisations' tab. 
MBA
As well as a host of MBA dedicated workshops, masterclasses, events and webinars at both campuses, our flagship MBA specific offerings include:
Spotlight on… Panels (a Q&A panel format, led by professionals from various sectors); and
Rise and Shine Breakfast Meetings (intimate monthly breakfast with a senior alumni).
Relevant online resources include:
Your MBA Students have access to unlimited one-to-one professional careers coaching either face-to-face at either campus or over Skype.
What can Henley Careers offer Academic Tutors?
You are welcome to contact your dedicated Careers Consultants for your specific cohort, to see how we can design any careers interventions for your students. Our Employer Relations team are always pleased to assist you in facilitating or initiating conversations with industry contacts.
Drop us a line or swing by Room 107, Henley Business School, Whiteknights to come and have a chat – we're a friendly bunch!