Peer Assisted Learning (PAL)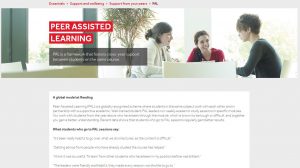 PAL sessions are module-specific and run in addition to that module's lectures, seminars and workshops on a weekly basis for the duration of the module.  One hour, weekly PAL sessions are run by trained and experienced student PAL Leaders, who are regularly debriefed by programme academics, and supported by a PAL Coordinator.
What happens in PAL sessions?
Your students bring lecture notes, hand-outs, and textbooks to refer to the session
With the PAL Leader, your students agree together what material they want to review, improve, or understand better
PAL Leaders are trained in how to structure and lead flexible PAL sessions so all can participate
Your student's PAL Leader does not teach, lecture nor give the answers
Your student's PAL Leader does help with problem solving, study skills, exam techniques, course work and assignments, and presentations
PAL Leaders know what your students are experiencing because they "have been there…" and have been successful
To find out if PAL is offered to support your students' module or if you are interested in having PAL sessions support your module, please contact the PAL Coordinator via pal@reading.ac.uk .  For information see the PAL page on Essentials.