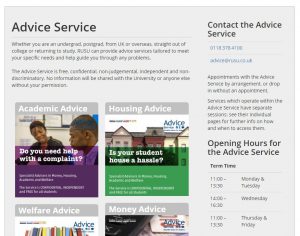 The RUSU Advice Service is a professional, independent and confidential service, available for all students registered with the University.  Our specialist advisers are able to provide practical support students with a variety of issues:
Academic advice – supporting students through University processes and procedures. This support could be helping them to understand the policy; helping them to write statements and obtain supporting evidence; preparing them for any meetings or hearing; attending with them in the capacity of a 'friend'.
Housing advice – we can advise students who are experiencing issues within the private rented section and within university accommodation, such as checking housing contracts, deposits, disrepair, issues with housemates, landlords and letting agents, as well as ending tenancies and eviction.
Money advice – we can assist students to navigate the student support system, and help with applications for welfare benefits, as well as providing more general information on money management, banking and consumer issues.
The Advice Service works with other support services within the University, and currently has a Housing Drop in run by Reading Borough Council on a fortnightly basis.  We also have links with a drug and alcohol charity, IRiS.
How students can access our service:
If you are in contact with a student who you think would benefit from speaking to an Adviser, there is a number of ways for them to get in touch with us.  You would also be welcome to speak to us in the first instance if you are unsure if we can assist, though please note that we are only able provide advice to the students themselves.
We operate a drop in every day in term time, from 11am to 1:30pm on Monday, Tuesday, Thursday and Friday, and 2pm to 4:30pm on Wednesdays.
Alternatively, students can book appointments with a relevant adviser, either by emailing us at advice@rusu.co.uk, telephoning RUSU Reception on 0118 378 4100, or by popping into the RUSU Reception in the RUSU Building, based centrally on the Whiteknights Campus.
Advice can also be provided via email or telephone, in the instance of students not being able to attend in person.