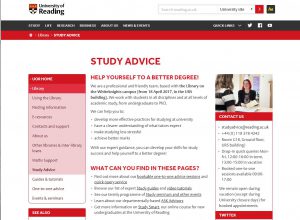 The Study Advisers provide expert professional advice on effective study for all Reading students, including
study guides and video tutorials to help:
develop essay, report and dissertation writing
organize time better
manage reading
research effectively
understand referencing and avoid plagiarism
prepare for exams
Or for advice tailored specifically to your students' concerns, suggest they book an individual advice session, or attend a drop-in session (1-2pm, Mon-Fri during term-time). Currently both one-one sessions and drop-ins are running online.
See our website for more on booking an advice session and 24/7 access to Study Advice via our online guides and video tutorials.
Study Smart
Study Smart is an online course with content developed by the Study Advice team, in collaboration with the Online Courses team, which aims to prepare students for successful university-level study. All new Part 1 students receive an invitation to enrol via email before Welcome Week. For more information on Study Smart, please see the Tutor Guide. Note that this guide is for tutors only: students should be accessing the materials through the course itself.
For 2021-22 Study Smart has been updated by adding a self-reflection section to the back of the certificate where students can rate their confidence in some of the key academic skills covered in the course. Academic Tutors could start a useful conversation with their students by asking to see these at meetings.