Areas we cover: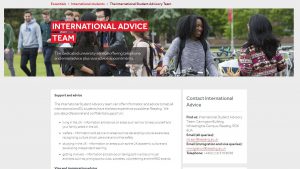 Qualified/expert advice on UK Immigration and Visas. Specifically Tier 4 (type of visa majority of International Students need to study in the UK) students and their dependants.
Home Office Compliance – to ensure that the University carries out its responsibility as a Tier 4 sponsor in adherence with Home Office rules. Also to ensure Tier 4 students comply with the terms of their visa which is sponsored by the University.
Advice and support to help all international and EU students have the best experience possible at Reading.
The International Student Advisory team are the only people within the University who can give advice on visas and immigration, therefore please refer all questions from your students to us.
Changes to a Tier 4 student's course or student status can affect their visa. Therefore, if your student is considering changing course, suspending or withdrawing please refer them to us to advise them on how their plans may affect their visa.
A Tier 4 visa ties a student to the University, course and course dates stated when applying for the visa. The University, as the visa sponsor has specific duties. Failure to meet or comply with these could put the University's Tier 4 sponsor Licence at risk.  Further information on Tier 4 and the University's responsibilities can be found in our Institutional Compliance Policy which all students agree to when enrolling/re-enrolling.
ISAT are based in the Carrington Building. We can be contacted by you on our extension number 8038.
How to refer your students to us? We offer appointments that can be booked via the RISIS portal. We can also be contacted by email through the 'ask a question' section of the RISIS portal or by emailing immigration@reading.ac.uk. Students can turn up at the Student Services reception, but we cannot guarantee there will be colleagues available to see them, so would always recommend booking an appointment or emailing in the first instance.